2020 - The Cyber View from the Hill
12th Aug 2020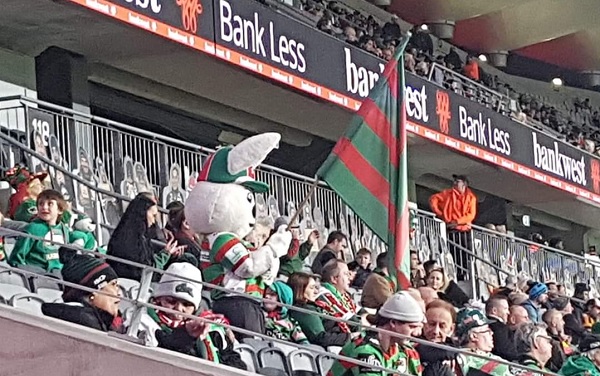 Controlled Important Win
A forced change in coach may have been the tonic for a mental refreshener for the team as they put in one of their best performances for the year. With Wayne Bennet forced into 14 day isolation it meant that James Demetriou took over the reigns and let the team break from the mental pressure of a tough covid season. The team moved the ball well in the wet and along with good defence put in a very good win in our return to ANZ Stadium. Still 4 more wins to make the finals. But we also got a 2 win break on our rivals with 7 rounds to go.
Reynolds 100 points
Adam Reynolds returned looked refreshed after only play 7 minutes last week. The leadership challenge was thrown down by Cody Walker last week and Adam responded with a very good kicking game in heavy conditions. Adam also picked up 16 points through a try and 6 goals to take him past 100 points for the season. And now within striking distance of Eric Simms senior premiership 3 grade career point scoring record.
Nicholls !
What can you say. Nicko has become the talk of Redfern over the last fortnight. Mark has only scored 3 tries in his NRL career and two of them have come in the last 2 weeks. He is enjoying the moment and so are the players and fans.
NRL Covid Protocol Issues
The mathematical line has appeared at the bottom of competition as head into back 3rd of the season. But with it has come the issue of not juts players giving up on the field but also off the field. At the 2/3rd mark of the season players are starting to say they have had enough of lockdown and are trying ways to bend the rules. This week the NRL has come down hard on a number of breaches, especially with the recent out breaks in NSW. We saw this week the effect on the English Super League when 6 Hull players tested positive and we don't want to see that occur in the NRL.
Round 13 - Stat Attack
Statistically it was one of our best all season. Completion improved to 89% from 82% last week. Errors improved to 9 from 10 last week. We gave away 4 penalties and 7 6-again calls from 7 last week. Souths Effective 1st tackle was improved to a the good level of 27.9m from 30.7m last week. Our missed tackles improved to a good level of 24 from 30 last week. Opposition offloads dropped to 6 from 5 last week.
Looking at our left side defence - Johnston-DGagai-Walker-Sironen/Johns (1-3-5-1) was dropped to 10 from 8 missed tackles last week. On the right side Paulo-Graham-Reynolds-Murray (1-1-0-0) improved to 2 from 13 missed tackles last week. Ruck defence Tatola/Mago-Cook-Burgess/Nicholls-Knight/Koloamatangi (3-3-2-2) droppd to 10 from 7 missed tackles last week.
Our go forward was dropped slightly to 1853m from 1887m last week. Koloamatangi, Burgess, Murray, Knight, Mago, Nicholls, Sironen, Mitchell and Dane Gagai made 10+m per run. Burgess, Koloamatangi, Tatola, Knight, Mago, Nicholls, Murray, Mitchell, Graham, Dane Gagai and Paulo making 100+m in the match. With Mitchell making 200+m. Defensively Cook was our best in the tackling raking up 53 tackles. Murray, Koloamatangi, Johns and Reynolds didn't miss a tackle.