2021 - The Cyber View from the Hill
11th August 2021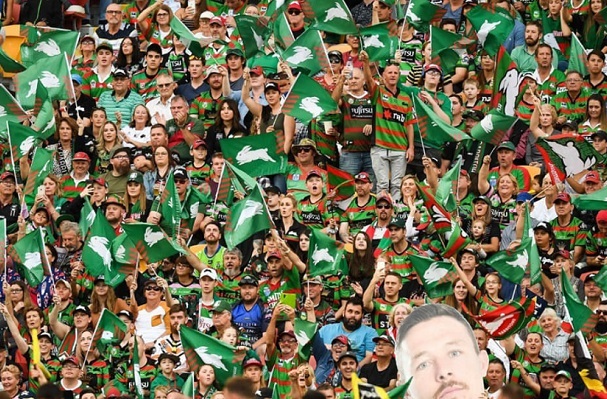 Top 3 Secured
Well we finally broke 38 points against Parramatta after it looked like it may end on 38 again for the fourth game in a row against the Eels. It was a semi-final style game with a arm wrestle in the forwards before we broke through out wide. 3 tries soon after the beak sealed the game, before a touch of Benji magic wrapped up the game. After the results of the weekend we wrapped up 3rd position. With everyone still in lockdown our Gold Coast get the home ground advantage this weekend as they battle to make the Top 8.
Reynolds breaks Simms Career record
What a remarkable achievement for Adam Reynolds as he became the greatest first grade South Sydney premiership pointscorer on the weekend. His first attempt at breaking the record was just before halftime when a penalty was given just before the break 49m wide-out. But his attempt fell 5m short. Then when Gagai scored early in the second half, he lined up the record breaking goal from the sideline and slotted it over. Its been a long journey since 2011 to break a record that has stood since Round 6 1971.
Paulo Parramatta Habit
JAxson Paulo is making a habit of scoring tries against Parramatta. He scored a double on the weekend, adding to the five he has scored last year. Three in premiership games and two in a trial. It is good to see him getting over his early season concussion issues and as he gains confidence will be a asset out wide.
Lower Grades abandoned
The Sydney Covid Delta outbreak shows no sign of ending soon, and the NSWRL have had no choice but to cancel the remainder of the lower grade season. We already had 6 rounds abandoned, and add to this the additional Jersey Flegg games abandoned due to Melbourne Delta Covid outbreak, that the Thunderbolts could not play. This is impacting lower grade player development, with many having 2 years of interuption. While in Queensland the players have been able to continue for now. How this impacts the NRL will be watched closely next year.
Round 21 - Stat Attack
Statistically it was a good game. Completion improved to 88% from 76% last week. Errors improved to 5 from 10 last week. We gave away 2 penalties and 5 6-again calls from 8 last week. Souths Effective 1st tackle improved but still in a very good level of 22.3m from 24.4m last week. Our missed tackles dropped to a very good level of 16 from 14 last week. Opposition offloads dropped to 13 from 3 last week.
Looking at our left side defence - Mansour-Gagai-Walker-Arrow/Host (0-1-0-3) improved to 4 from 5 missed tackles last week. On the right side Paulo-Milne/Marshall-Reynolds-Koloamatangi/SuA (0-4-0-2) dropped to 6 from 4 missed tackles last week. Ruck defence Nicholls/Tatola-DCook-Burgess/Arrow-Murray/Koloamatangi (0-0-2-1) improved to 3 from 4 missed tackles last week.
Our go forward dropped to 1744m from 2056m last week. Tatola, Mansour and Mitchell made 10+m per run. Tatola, Nicholls, Burgess, Koloamtangi, Arrow, Murray, Mansour, Gagai, Paulo and Mitchell made 100+m in the match. With Mansour making 200+m for the game. Defensively Damien Cook was our best in the tackling raking up 45 tackles. Nicholls, Koloamatangi, Tatola, Walker, Reynolds, Mansour and Paulo didn't miss a tackle.
Rabbitohs Radio - Weekly Segment
Boys chat to Peter Mamouzelos, remember Jason Sinclair and preview the Titans game.