Benji Marshall Signs for 2021
29th January 2021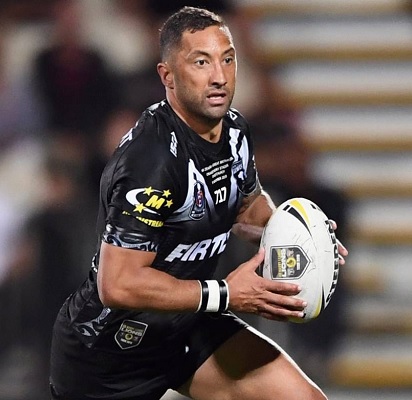 The South Sydney Rabbitohs are pleased to announce the signing of New Zealand Kiwis international Benji Marshall on a one-year contract for season 2021 today.
Marshall, 35, is recognised as one of the modern day legends of the game having represented New Zealand in 31 Test matches, winning an NRL premiership in 2005 with the Wests Tigers and having played in excess of 300 NRL games. Marshall has played under Rabbitohs coach Wayne Bennett previously at the Brisbane Broncos, as well as with the New Zealand Kiwis when they won the World Cup together in 2008 and with the NRL All Stars where Benji was captain in 2012 and 2013. He was awarded the Golden Boot as the best player in the world in 2010, was crowned the Dally M five-eighth of the year in 2011 and was announced as the RLIF five-eighth of the year in 2009 and 2011.
Rabbitohs Head of Football, Mark Ellison, says everyone is excited to be welcoming Benji to the cardinal and myrtle. "Anyone who follows Rugby League will understand what an asset Benji Marshall will be for our team and our Club throughout 2021," Rabbitohs Head of Football Mark Ellison said. He has a great profile within the game as well as external to Rugby League and weíre all looking forward to having him join our Club and showing everyone that Benji has still got what it takes to make a difference during an NRL Premiership campaign. Iím sure our Members will welcome him with open arms and we all look forward to working with him over the upcoming season."
Marshall is grateful to have the opportunity to join the Rabbitohs in 2021. "I have a lot of gratitude to get the opportunity to play again in the NRL I couldnít sleep last night, I was that excited. It felt like it was the first day at school. Itís an opportunity for me to not only play, but to go out winning a competition. With this squad here, the coaches, itís a great opportunity for that and thatís my goal. Itís been a great club for so long and to be playing here is very special to me. The Rabbitohs fan base, as well, is so big, vocal and passionate and Iím really looking forward to playing for the Souths Members rather than against them this year."


Benji Marshall
Date of Birth  - 25 February 1985
Place of Birth - Whakatane, NZ

Height: 183cm
Weight: 92kg

Position       - Five-Eighth
Junior Club    - Keebra Park, Qld
Previous Clubs - Wests-Tigers (2019-20)
               - Brisbane (2017)
               - St George-Illawarra(2014-16)
               - Auckland RU (2014) 
               - Wests-Tigers (2003-13)

NRL Games  - 324 (257 for Tigers, 54 for Dragons, 13 for Broncos)
NRL Points - 1220 (from 93 tries, 416 goals, 16 fieldgoals) 
NRL Debut  - Penrith v Melbourne, Penrith Stadium, 5 May 2012 (Rd9)

Representative Honours - New Zealand (2005-19) (Captain 2008-12) Australia (2014,16-17) 
                       - NRL All Stars (2010-13) (Captain 2012-13)Lebanon (2009) 
                       - Australian Schoolboys (2003)
                       - Australia Touch Football (2003)

Awards - Dally M 5/8 of the Year (2011)
       - RLIF Golden Boot (2010)
       - RLIF 5/8 of the Year (2009,11)


---
© 2021 SSR Almanac / HOME / RETURN