Milford Signs for 2022
30th July 2021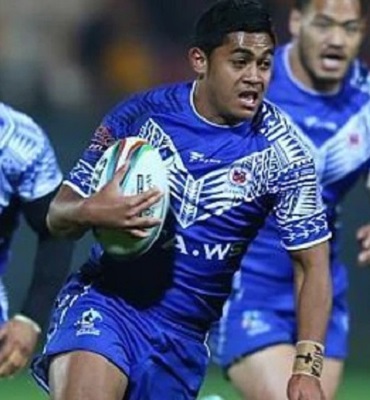 The South Sydney Rabbitohs are delighted to announce the signing of International and State of Origin half Anthony Milford for season 2022. Milford, 27, is a five-eighth or halfback that has played 189 NRL games during his nine-year NRL career so far with the Canberra Raiders and Brisbane Broncos, as well as seven Tests for Samoa and two State of Origin matches for Queensland. Milford played in the 2015 NRL Grand Final with the Broncos.
Rabbitohs Head of Football, Mark Ellison, says Milford will be a great signing for the Rabbitohs in 2022. "We're really excited to have Anthony joining our Club in 2022," Mr Ellison said. "He comes to us highly recommended by (current Head Coach) Wayne (Bennett) and 'JD' (incoming 2022 Head Coach Jason Demetriou) who both worked with him at the Broncos where he played a leading role in taking them to the 2015 Grand Final. He has a tremendous amount of experience for a man that's only 27-years-of-age, we believe he has his best football in front of him, he will get the chance to work with coaches who were leading halves in Ben Hornby, John Morris and John Sutton as well as his former mentor when he was at his peak in Jason Demetriou, and we think a change of club into our system could see us unlock those brilliant performances from Anthony that all Rugby League fans remember fondly. We wish him the best of luck for the rest of the season with the Broncos and we look forward to having him join us for the 2022 pre-season."


Anthony Milford
Date of Birth  - 1 July 1994
Place of Birth - Brisbane

Height: 177cm
Weight: 89kg

Position       - Five-Eighth, Halfback
Junior Club    - Acacia Ridge, Brisbane
Previous Clubs - Brisbane (2015-21)
               - Canberra (2012-14)
               - Brisbane Souths (2010-11)

NRL Games  - 189 (147 for Brisbane, 42 for Canberra)
NRL Points - 358 (47 tries, 33 goals, 12 fieldgoals for Brisbane, 21 tries, 3 goals, 2 fieldgoals for Canberra)
NRL Debut  - Canberra v Sydney Roosters, Bruce Stadium, 7 April 2013 (Rd5)

Representative Honours - Samoa (2013,17-19) 7 Tests & 2013 RLWC
                       - Queensland SOO (2017-19) 2 matches
                       - Australia 4 Nations Squad (2016)
                       - Queensland Emerging Maroons (2016)
                       - Australia 4 Nations Train-On Squad (2014)
                       - Australian PM XIII (2014)
                       - Queensland U20s (2013)
                       - Queensland Emerging Junior Maroons (2013)
                       - Queensland U18s (2012)
                       - Queensland U16s (2010)
                       - Australia U15 Schoolboys (2009)
                       - Queensland U15 Schoolboys (2009)

Awards - NRL Rookie of the Year (2013)
       - Dally M Peter Frillingos Memorial Award (2016)


Milford Contract Not Registered
30th November 2021
The South Sydney Rabbitohs respect and support the NRL's decision to not register a contract for Anthony Milford at this stage. The Rabbitohs will await the outcome of the legal proceedings and the NRL's final determination before commenting further. The National Rugby League (NRL) has advised player Anthony Milford and the South Sydney Rabbitohs that it will not consider registering a contract for the player until criminal proceedings against Milford have been completed. Given the severity of the allegations, particularly that two charges allege violence against women, the NRL will not consider an application for registration until the court process is complete. Milford was arrested on 20 September 2021 and charged.
---
© 2021 SSR Almanac / HOME / RETURN