Bijorac, Lovett and Munro Contract Extensions
12th August 2021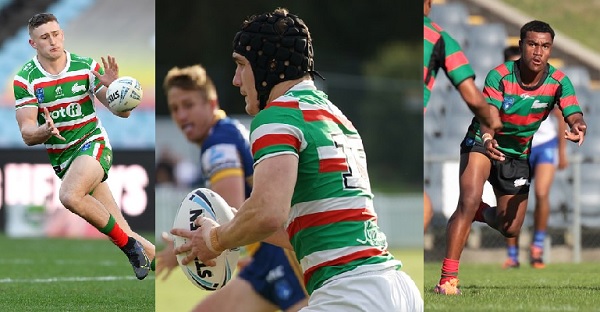 The South Sydney Rabbitohs are delighted to announce the re-signing of three exciting young prospects on extended contracts, bolstering the Club's depth with a view to future NRL debuts. Outside backs Zane Bijorac has signed to full-time contract in 2022 with Ben Lovett and Tyrone Munro signing with the Club to progress their development through the Club's pathways program.
Bijorac, 20, is a centre or winger that has progressed through South Sydney's Black Rabbits Elite Player Development program to earn a top 30 contract in 2022. He played in both the Jersey Flegg under 21s and NSW Cup open age competitions in 2021, having started with the Rabbitohs in 2019. Zane is a powerful ball runner and a strong defender that trained with South Sydney's NRL squad over the 2021 pre-season.
Lovett, 19, has been re-signed for a further two seasons after two years in the Club's pathways program and a strong Jersey Flegg season in 2021. A hard-working second rower, Lovett will continue in the Black Rabbits Elite Player Development program next year before going full time with a development contract in 2023.
Munro, 16, is a highly talented centre that was awarded South Sydney's Harold Matthews Cup under 17s player of the year award in 2021. A South Sydney junior from the Botany Rams club, Munro represented the NSW Combined High Schools in 2021 despite having another year of schooling to go in 2022. Munro has re-signed with the Rabbitohs until the end of 2024.
Rabbitohs Head of Football, Mark Ellison, says these young players have the opportunity to progress as footballers and as young men at the Rabbitohs. "We're really excited to have secured the services of Zane, Ben and Tyrone. They are all considered elite players in their age groups and, with hard work, they will get the opportunity to progress their growth as footballers and as young men in our programs and systems," Mr Ellison said. "Zane, Ben and Tyrone have all benefitted from coming through our Black Rabbits program here in Sydney, This program is managed, as is our whole pathways program, by our Head of Elite Pathways and Player Development, Joe O'Callaghan, and these programs are developing some fantastic young players in both our men's and women's squads."


Zane Bijorac
Date of Birth  - 15 February 2001
Place of Birth - Queanbeyan, NSW

Height: 190cm
Weight: 93kg

Position       - Center
Junior Club    - Queanbeyan Blues
Previous Clubs - Queanbeyan (2012-18)

Representative Honours - Serbia RLWC Qualifiers (2019)
                       - European U19 Merit Team (2018)
                       - Serbia U19 (2018)
                       - NSW Country U18s (2018)
                       - Bidgee Bulls (2017)

Ben Lovett
Date of Birth  - 7 December 2001
Place of Birth - Parkes, NSW

Height: 190cm
Weight: 100kg

Position       - Second Row
Junior Club    - Parkes Spacemen
Previous Clubs - Parkes (2018-19)

Representative Honours - NSW CCC (Combined Catholic Colleges) U18s (c) (2019)
                       - NSW Country U18s (2019) Tour of Emgland
                       - Western Rams U18s (2019)

Awards - Western Rams Player of the Year (2019)
       - Group 11 Junior PLayer of the Year (2019)

Tyronne Munro
Date of Birth  - 26 December 2004
Place of Birth - Moree, NSW

Height: 183cm
Weight: 80kg

Position       - Fullback
Junior Club    - Botany Rams

Representative Honours - NSW Combined High Schools U18s (2021)

Awards - South Sydney Harold Matthews Cup Best and Fairest Player (2021)



---
© 2021 SSR Almanac / HOME / RETURN