2022 - The Cyber View from the Hill
21st September 2022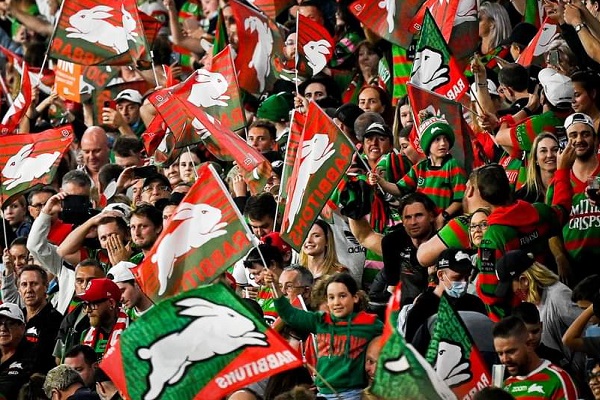 5th Preliminary Final in a Row
It was a dominate display by the team this week as we qualified for our 5th preliminary final in a row. Emulating the great teams of 1923-29, 1949-57 and 1967-71. The team powered through the middle with two early tries before we scored 4 tries on both edges to dominate the game. Injuries to Havili, Arrow and Johnston are the concerns out of the game. Our focus has quickly turned to the grand final rematch at Accor Stadium against Minor Premiers and last year Premiers Penrith. This is expected to be another epic encounter as many believe this winner of this game will take out the big dance the following week.
Graham powerful display
Campbell Graham had a powerfyl game at left centre with strong defence and great running display. He his forming a very good partnership with Milne and his return has improved our right side defence significantly.
Tatola leading the way
Junior Tatola had another very strong game this week. He has really improved in the backend of the season with his strong wrecking ball style runs that are having a big impact on our go forward. He will get a real test this week against the Penrith pack.
2023 Womens Soccer World Cup impact
It is becoming apparent that 2023 is going to be a different season with the Womens Soccer World Cup disrupting the season between July and August. Major rectangular venues of Stadium Australia, Sydney Football Stadium and Suncop Stadium are going to be out of action, as the NRL will start going on the road for around 6 weeks. We have already seen Souths reduce their home games to 8 for 2023.
Rabbitohs TV - Weekly Segment
The boys recap Semi-Final game
Semi-Final - Stat Attack
Statistically it was a average game. Completions dropped to 68% from 80% last week. Errors dropped to 14 from 8 last week. We gave away 5 penalties and 1 6-again calls from 12 last week. Souths Effective 1st tackle improved to a average level of 33.5m from 40.3m last week. Our missed tackles dropped to a good level of 27 from 23 last week. Opposition offloads improved to 8 from 12 last week.
Looking at our left side defence - Johnston/Tass-Tass/Nikorima-Walker-Arrow/CheeKam (2-1-6-1) dropped to 12 from 6 missed tackles last week. On the right side Milne-Graham-Ilias-Koloamatangi (0-4-3-3) dropped to 10 from 8 missed tackles last week. Ruck defence Tatola/Sele-Cook-Nicholls/Havili/Arrow-Murray (3-1-1-1) improved to 6 from 9 missed tackles last week.
Our go forward improved to 1735m from 1658m last week. Nicholls, Havili, Tass and Walker made 10+m per run. Tatola, Murray, Nicholls, Koloamatangi, Arrow, Tass, Graham, Milne and Walker made 100+m in the match. Defensively Murray was our best in the tackling raking up 37 tackles. Sele, Havili, Milne, Mitchell and Nikorima didn't miss a tackle.
News This Week
MenuLog Rabbitohs 2023-25 Upper Back Jersey Sponsorship Extension
IRL - Ivory Coast and Uganda awarded Observer Membership
Preliminary Final Preview
Recent 2022 Form - South Sydney (3rd)

Rd25  Syd Rstrs  SFS2 L 16-26
mPSF  Syd Rstrs  SFS2 W 30-14
MSF   Cronulla   SFS2 W 38-12

Recent 2022 Form - Penrith (1st)

Rd25  Nth Qld    NQSt L  8-38
MPSF  Parramatta Penr W 27-8  
SF    BYE

Recent South Sydney v Penrith Results

2019 Rd07  Penr W 22-18 14,391 A.Klein/Z.Przeklasa-Adamski
2019 Rd14  StAu L 18-19 11,023 A.Gee/J.Stone
2020 Rd07  Koga L 12-20    150 G.Sutton
2020 MF    StAu L 16-20 30,116 G.Sutton
2021 Rd11  Dubb L 12-56 10,824 G.Atkins
2021 Rd23  LngS L 12-25  8,848 G.Atkins
2021 MPSF  NQSt W 16-10 18,244 G.Sutton
2021 GF    LngS L 12-14 39,322 G.Sutton
2022 Rd04  Penr L 12-26 20,521 A.Klien
2022 Rd23  StAu L 22-26 15,206 A.Gee


Selected Preliminary Final Teams