2022 - The Cyber View from the Hill
28th September 2022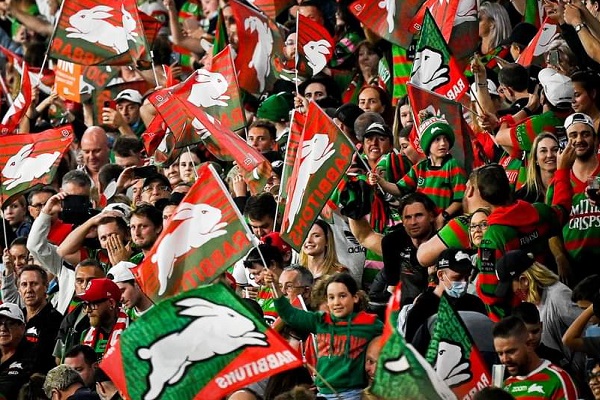 Errors cost as we bow out
It was always going to be tough ask with Souths having Burgess, Johnston and Havili on the sideline. But by the 20 minute mark of the game we lead the Minor Premiers by 12 nil. But critical errors in the last few minutes of the 1st half gifted Penrith 12 points just when we had them rattled. We just never recovered as Penrith have become our new hoodoo team where we have won only 1 of the last 10 encounters. The team can hold the heads high after a tough transitional year. Now for a offseason which includes the postponed Rugby League World Cup.
Kennar welcome back
It was a tough ask stepping into Alex Johnston's Top Try Scorer's shoes but Richie Kennar did the job very well, being safe under the high ball. And he finished a great backline play making it 4 tries from 2 games as a fill in.
Mitchell Top Point Scorer
After a strog second half of the season and kicking 21 goals in succession, Mitchell has ended the season as our Top Point Scorer with 148 points. Its been a mixed season with some touches of brilliance. Hopefully a good off season will have him primed for season 2023.
1 Year IRL Eligability Change
One key change in international eligability has make some waves in the lead up to the Rugby League World Cup. That change being that you cannot change your tier 2 country eligance in a calender year. What that meant was anyone who played in the mid year tests are now locked in as we enter the Rugby League World Cup. I beleive this is a good compromise and we will see its effect as teams get locked in over the coming weeks.
Preliminary Final - Stat Attack
Statistically it was a poor game. Completions improved to 72% from 68% last week. Errors improved to 10 from 14 last week. We gave away 4 penalties and 2 6-again calls from 6 last week. Souths Effective 1st tackle dropped to a poor level of 37.3m from 33.5m last week. Our missed tackles dropped to a very poor level of 41 from 27 last week. Opposition offloads improved to 5 from 8 last week.
Looking at our left side defence - Kennar-Tass-Walker-Arrow/Cartwright/Murray (2-1-10-6) dropped to 19 from 12 missed tackles last week. On the right side Milne/Graham-Graham/Nikorima-Ilias-Koloamatangi/CheeKam (1-2-2-0) improved to 5 from 10 missed tackles last week. Ruck defence Tatola/Sele-Cook-Nicholls/Arrow/Kolomatangi-Murray/Nikorima (4-1-4-4) dropped to 17 from 6 missed tackles last week.
Our go forward dropped to 1700m from 1735m last week. Nicholls, Arrow, Tass and Kennar made 10+m per run. Murray, Tatola, Koloamatangi, Nicholls, Sele, Tss, Graham and Milne made 100+m in the match. Tass made 200+m for the match. Defensively Murray was our best in the tackling raking up 53 tackles. Koloamatangi and Chee-Kam didn't miss a tackle.
News This Week
Walker wins 2022 Ken Stephen Medal
Murray, Burgess and Koloamatangi Team of the Tourmant Selections
Murray RLWC2021 Dream Team Selection