Murray, Burgess and Koloamatangi RLWC2021 Team of the Tournament
16th November 2022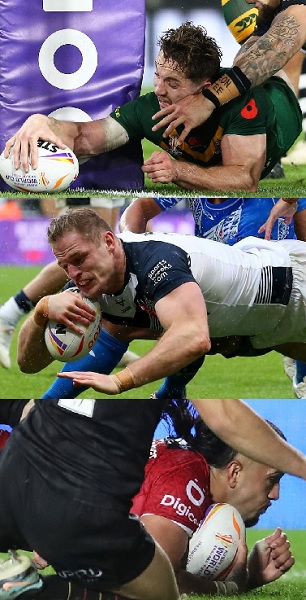 Rabbitohs Cameron Murray (Second Row), Tom Burgess (Prop) and Keaon Koloamatangi (Interchange) have been named in the Men's Team of the Tournament for the 2021 Rugby League World Cup.
As the Rugby League World Cup 2021 (RLWC2021) comes to a dramatic conclusion this weekend, tournament organisers have today revealed which players make up the RLWC2021 Teams of the Tournament for each of the menís, womenís and wheelchair formats. Voted for by a selected specialist panel comprising of former players, ambassadors and members of the media, the menís and womenís teams consist of 13 players in position along with four interchanges. The wheelchair team is made of the 10 most selected players from the panel. For the first time in history, all three codes have been competing concurrently at RLWC2021, and fans have been treated to some scintillating rugby league. From well-known superstars living up to expectations, and newcomers taking the tournament by storm, RLWC2021ís panelists had plenty of players to choose from when it came to selecting the Teams of the Tournament.
Jon Dutton, Chief Executive at RLWC2021 commented: "We have seen some incredible team and individual performances across all three tournaments at this fantastic Rugby League World Cup over the last five weeks. To be included in the Team of the Tournament is something these athletes will be able to cherish, and to be recognised on the biggest stage of all is a testament to their athleticism, skills and determination."
Ref - SSFC [Viewed 16 Nov 2022] / FN-1 / FN-30
Murray RLWC2021 Dream Team Selection
18th November 2022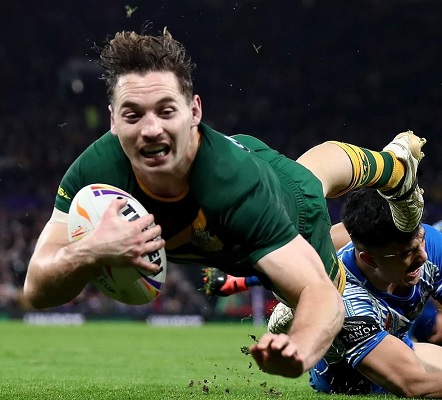 Rabbitohs Cameron Murray has been named in the RLW2021 Dream Team.
Hot on the heels of the announcement of the menís, womenís and wheelchair teams of the tournament, Rugby League World Cup 2021 has revealed which stars have made selection for the Dream Team. The Dream Team is a Top 17 selection across all three disiplines. "Congratulations to all our Dream Team players on their selection Ė not only have they established themselves as the standout players of the Rugby League World Cup 2021 but they can also consider themselves the greatest rugby league players in the world right now," said RLWC2021 Chief Executive Jon Dutton.
---
© 2022 SSR Almanac / HOME / RETURN