2023 - The Cyber View from the Hill
23rd Aug 2023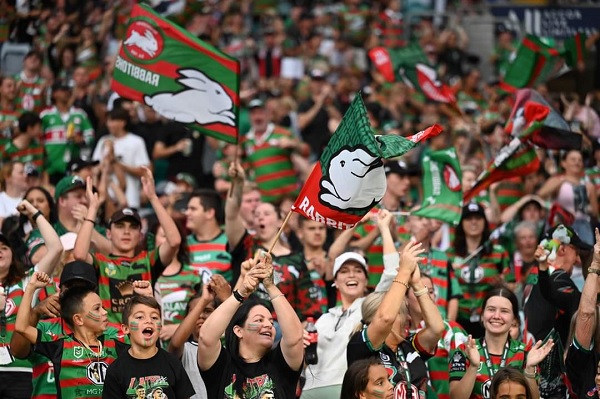 Poor Last Road Trip Effort
We finally returned to NSW for a game of football, but it was another road trip up to Newcastle. The match however was another disjointed affair, wish opportunities not taken and points gifted to the opposition through errors, with wide cracks appearing under pressure. While we have a week off, the team is now in a do or die game to make the Top 8, while offfield drama engulfs the club.
Shaq first NRL Try
Its been a steady return back for big Shaq Mitchell. But in recent weeks we have seen a return to his early season form, scoring first in reserve grade a few weeks ago, and on the weekend doing everything he could to get the team back into the game with a powerful first NRL try.
Moale double
Up at Toronto our reserve grade team cemented themselves a second place finish in the finals, on the back of a dominate forward performance in the final 20 minutes. Davvy Moale was part of that scoring two powerful tries up the middle as he helped the team get back into the lead and eventually win the match.
Season Ends on poor note
Our U21s team had a disappointing second half of the season going from being in the Top 5 to losing by 50 to the team coming last on the weekend. There is a lot of off-season work for the team. Our top point scorer was Joseph Nohra with 71 points(who departed mid-season) and Top Try Scorer was Carson Kaho with 7 tries.
Coaching Issues
In scenes that playe out in the media like a day time soap opera, South Sydney coaching and player ranks came under extreme scrutiny this week after another poor performance. From talk of assistance coaches standing up to the head coach, to player divisions, to players being accused of not putting in on the field. All of this two weeks out from the finals, saw the club and owner Russel Crowe say enough is enough. In the blood letting we have seen club legend Sam Burgess depart early for his new role at Warrington and John Morris in the afternoon confirm his new role at a rival club. It is now time for everyone at the club to get behind our players and the players to get behind our coach. It is a classic post Wayne Bennett residual impact, as everyone needs to adjust to the new direction and player management style of Jason Demetriou. How this plays out is yet to been seen. If we don't move forward together, it has the potential to herald another dark period for the club.
Round 25 - Stat Attack
Statistically it was a very poor game. Completions dropped to 58% from 63% last week. Our worst all year, with us not completing a set for the final 20 minutes of the first half. Errors improved to 14 from 16 last week. We gave away 7 penalties and 2 6-again calls from 4 last week. Souths Effective 1st tackle was dropped to a very poor level of 40.0m from 25.2m last week. Our missed tackles dropped to a horrid level of 48 from 23 last week. Our worst all season. Opposition offloads was steady at 9 again this week.
Looking at our left side defence - Johnston-Tass-Walker-Host/Murray (0-2-4-5) improved to 11 from 12 missed tackles last week. On the right side Milne-Graham-Ilias-Koloamatangi (2-2-7-1) dropped to 12 from 6 missed tackles last week. Ruck defence Arrow/HSele/Havili-DCook-SMitchell/Murray/Tatola-Murray/Duncan (6-2-6-9) dropped to 23 from 3 missed tackles last week.
Our go forward dropped to 1585m from 1778m last week. With our props made a horrid 257m compared to 371m last week. DCook, Havili and Milne made 10+m per run. DCook, Murray, LMitchell, Milne, Graham, Tass and Johnston made 100+m in the match. With LMitchell making 200+m for the match. Defensively Murray was our best in the tackling raking up 49 tackles. HSele and Johnston didn't miss a tackle.
News This Week
Sam Burgess Released from Assistant Coaching duties immediately
Selected NRL Round 26 Match Report