South Sydney Member Co. 17th Annual General Meeting
26th February 2023
The 17th Annual General Meeting of the Members of the Member Co., in the 115th year of South Sydney, will be held in the Whittle Room in Souths Juniors Leagues Club on Sunday 26th February 2023 at 9.30am.
On the back of a successfull year where South Sydney made their 5th NRL premiership preliminary final, South Sydney recorded a record revenue of $38.1 mil as the competition came out of covid lockdown.
No voting for the Board of the South Sydney Members Rugby League Football Club Limited (Member Co.) was needed this year.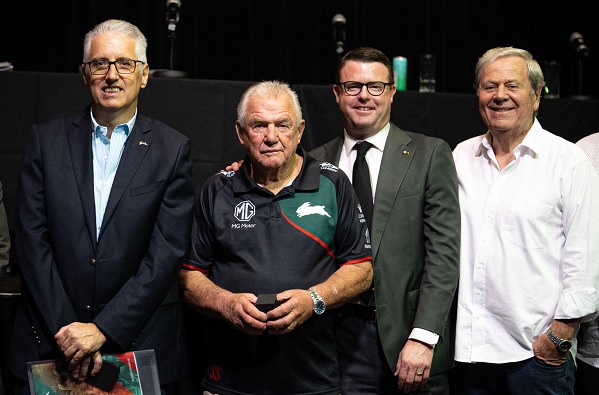 Life Memberships - George & Noelene Piggins
The South Sydney Rabbitohs are delighted that Club legends George Piggins and his wife Nolene Piggins have now agreed to take up their Life Memberships in South Sydney Member Co. ahead of the 2023 season. Mr Piggins was originally awarded Life Membership of South Sydney Football Club in 1979, with Mrs Piggins' Life Membership following in 2002.
In 2006, when private investment was introduced to the Club, the Club's company structure changed. Where previously Members held their memberships in South Sydney Football Club, they were now required to elect to become a Member of South Sydney Member Co. This change meant that all Members, including Life Members, had to sign documentation to transfer their Membership to the new organisation. At the time, Mr and Mrs Piggins, Mr Wayne Stevens and the late Mr Rod Gorman declined to transfer their Life Memberships. However, in 2018, Mr Stevens signed the necessary documentation and now, in 2023, Mr and Mrs Piggins have also signed the required documentation to reinstate their Life Memberships. This means that all surviving Life Members have now signed the transfer documents and are now Life Members of the Rabbitohs.
South Sydney Chairman, Nicholas Pappas, says this is an important moment for the Rabbitohs. "It is very pleasing for all South Sydney Members that George and Nolene, both heroes of our Club, have resumed their rightful place as Life Members and there could be no more unifying moment for our great Club on the cusp of another exciting season."
South Sydney Member Company 17th Annual Report
Ref - SSFC [Viewed 27 Feb 2023] / FN-1
---