2017 NRL Premiership - Trial
South Sydney v Manly-Warringah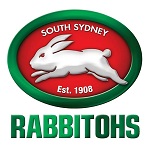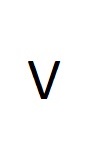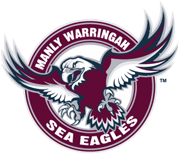 Campbelltown Stadium
Sat Feb 11, 8:00pm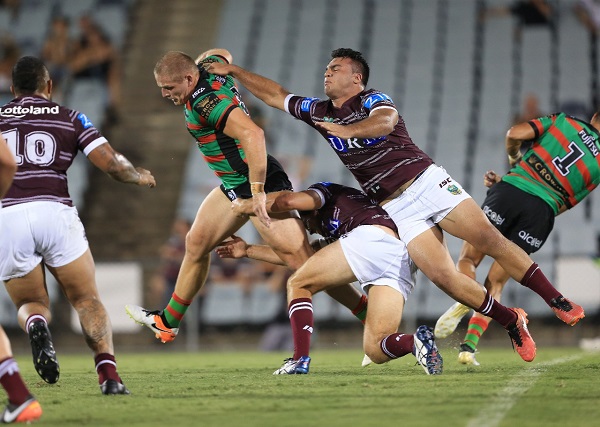 CyberView from the Hill - Last Week
CyberView from the Hill - This Week
Late Changes
M.Hiroti is out. Farah starts at hooker, Dietz on the bench, Tasi on the wing. Murphy, Travers, Dokoinvalu, Siolo, Ili were added to the bench.
LOSS 16-22
On club doctors advice the NRL clash has been delayed. Kick off will happen at 8pm Match was played 4 20 minute quarters. The South Sydney Rabbitohs went down to the Manly Warringah Sea Eagles 22 points to 16 in their first full trial match for the 2017 season despite a comeback in the second half at Campbelltown Sports Stadium tonight (Saturday). There was no clear cut chance by either team in the first seven minutes of play except for a Blake Green attacking grubber which was handled well by Siosifa Talakai. Wearing the red and green jersey for the first time, Robbie Farah was the first over the line running on the last tackle but lost the ball in goal denying himself his first Souths try. It was level across the field for the next few sets but Manly would add the first points for the night through a try to Jarrad Kennedy. It came from a Brian Kelly flick pass that saw Dylan Walker run parallel to the Souths line before finding Kennedy running at a gap in the defensive line. Walker converted to take the Sea Eagles 6 points clear. The Rabbitohs had a second chance at the try line when Farah lofted a cut out ball to Tautalatasi Tasi on the far left side of the field but the ball was held up in goal. Manly added to their lead when Jorge Taufua picked up a cross field kick and passed it off to Johnathan Wright who scored a try in the far left corner. Dylan Walker added two more points bringing the Sea Eagles up 12 points to nil. A kick from Farah in dummy half almost trapped Tom Trbojevic in goal but Tyrell Fuimaono conceded the penalty trying to drag Trbojevic back in goal. This saw Manly head up the other end of the field to once again attack the Souths line. Tasi was safe under a cross field bomb from Manly but was tackled in the air and drew a penalty. Rabbitohs kicked for touch and restarted from the 15m but couldn't add to the scoreboard for the first half. The Sea Eagles would end the first half leading 12 points to nil. The Rabbitohs produced some strong individual performances, particularly in Farah, Jennings, Talakai and Clark, and were threatening on occasion but were needing to string their play together more cohesively to produce results. Despite some solid defence in the opening minutes of the second half, Manly found a gap and scored their third try for the night through Walker. Manly would find themselves at 16-0 early in the second half. Hitting back, the Rabbitohs made a clean shift to the right in attack which saw Luke Kelly shift the ball to Talakai who made space on the right before offloading the ball to Sitiveni Moceidreke who dived over the try line in the far right corner. Levido would miss the conversion attempt. Souths 4 – 16 Manly. The Rabbitohs would drag themselves to one converted try away from Manly when Luke Kelly kicked a nicely placed grubber that deflected off a Manly defender and was picked up well by Talakai who went over the line. Levido converted and the score became Souths 10 – 16 Manly. Manly extended their lead with another converted try at the end of the third quarter. Parata would find himself on the end of a nicely placed attacking grubber and finished easily. Walker converted and the Sea Eagles pushed the score out to 22 to 10. The fourth quarter would see the Rabbitohs add the last points for the night with a try to Ed Murphy and successful conversion kicked by Adam Doueihi.

 9 min  0-6
26 min  0-12
45 min  0-16
48 min  4-16
51 min 10-16
59 min 10-22
78 min 16-22

Mociedreke, Talakai, Murphy tries
Levido 1 from 2, Doueihi 1 from 1 goals

Crowd       2,500
Referee     G.Badger

Penalities  8-8
Scrums      4-7

                                 Min  T  G/A  FG
Flbk -  1 - Burns, Braidon        60  -  -     -
LWng - 16 - Tasi, Tautalatasi     60  -  -     -
LCnt -  3 - Jennings, Robert      80  -  -     -
RCnt -  4 - Talakai, Siosifa      80  1  -     -
RWng -  5 - Moceidreke, Siteveni  80  1  -     -
5/8  -  6 - Levido, Eli           66  -  1/2   -
Half -  7 - Kelly, Luke           57  -  -     -
Prop -  8 - Burgess, George       34  -  -     -
Hook - 25 - Farah, Robbie         40  -  -     -
Prop - 10 - Cherrington, Anthony  55  -  -     -
SRow - 11 - Rochow, Robbie        73  -  -     -
SRow - 12 - Crichton, Angus       80  -  -     -
Lock - 13 - Clark, Jason          34  -  -     - (c)

Int  -  9 - Dietz, Brad           30  -  -     -
Int  - 14 - Fuimaono, Tyrell      49  -  -     -
Int  - 15 - Murray, Cameron       28  -  -     -
Int  - 17 - Miski, Abbas          16  -  -     -
Int  - 18 - Doueihi, Adam         20  -  1/1   -
Int  - 19 - Williams, Clayton     23  -  -     -
Int  - 20 - Hunt, Phoenix         10  -  -     -
Int  - 21 - Hunt, Jamel           17  -  -     -
Int  - 22 - Whitelaw, Cheyne      15  -  -     -
Int  - 23 - Murphy, Ed            27  1  -     -
Int  - 24 - Travers, Riley        10  -  -     -
Int  - 19 - Dokonivalu, Jok       14  -  -     -
Int  -  2 - Siolo, Patrice        10  -  -     -
Int  - 23 - Ili, Kalani            9  -  -     -

                                      3  2/3   -

Other Trial Matches

30-18 SunS Melbourne    b Warriors
20-10 Belm Penrith      b Canterbury
20-10 Woll St Geo-Ill   b Wests-Tig
11-10 Mcky Nth Qld      b Syd Rstrs
36-24 Ipsw Brisbane     b Ipswich
30-18 AlSp Gold Coast   b Parramatta
      

Judiciary News
No one was charged out of the match.
U20 National Youth Holden Cup - Trial
v Manly-Warringah, 5:00pm
Abandoned
Late Changes - Cordtz is out. M.Hiroti starts fullback Play was initially postponed indefinitely. After discussion between Club officials, the NYC match has been cancelled for today's trial match at Campbelltown Sports Stadium. Due to heat, both Clubs have decided it is in the best interest of player welfare to cancel the game.

Final Line Up that was to take the field

Flbk - Hiroti, Mawene 
Wing - Boyce, Rangi-Paoa 
Cntr - Graham, Campbell 
Cntr - Shiach-Wise, Bailey 
Wing - Taukamo, Tyrone 
5/8  - Doueihi, Adam 
Half - Leddy, Harry 
Prop - Fuimaono, Henry-Siriah 
Hook - Hunt, Phoenix 
Prop - Ili, Kalani 
SRow - Ta'avale, Lucky 
SRow - Manowski, Blake 
Lock - Topai-Aveai, Cruz 

Int  - O'Connor, Dylan 
Int  - Butler, Tarquinn 
Int  - Mailata, Jordan 
Int  - Johnstone, Sam 
Int  - Koloamatangi, Keaon 
Int  - Hamlin, Gabe 
Int  - Saunders, Josh 



Reserve Grade - Intrust Super NSW Premiership Trial
v Blacktown Workers Sea Eagles, Campbelltown Stadium, 3:15pm
Abandoned
On Friday afternoon a decision was made due to the impending heat the Intrust Super Premiership Trial between the Bears and Blacktown Workers set down for 3:15 pm Saturday will not ahead.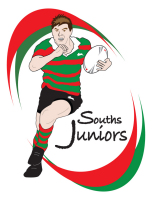 NSWRL U18 SG Ball Cup Round 1
v North Sydney, TG Milner Field, Sat Feb 11 11:15am
Abandoned
The NSWRL has cancelled all junior representative matches this weekend in accordance with the NRL Heat Guidelines following the most recent updated forecasts of extreme heat. The 2017 competition season was set to kick-off tomorrow (Saturday, 11 February), with an inaugural girls competition being played alongside the elite junior boys this year for the first time. The Harold Matthews (U16 boys), SG Ball (U18 boys) and the Tarsha Gale Cup (U18 girls) were to be played at various venues around Sydney, Wollongong and Newcastle tomorrow and Sunday, but in the interests of player welfare and proper administration of the competitions, all matches have been cancelled. No points will be allocated to any team, with the three competitions effectively commencing in Round 2 next week.


Other U18 Matches

Abdnd Hill Wests        v Penrith
Abdnd Koga St George    v C Coast
Abdnd Belm Canterbury   v Parramatta
Abdnd Hens Syd Rstrs    v W Syd Acad
Abdnd Brok Manly        v West Coast
Abdnd Lyle Newcastle    v Cronulla
Abdnd Woll Illawarra    v Balmain
BYE        Canberra
     
               W D  L B Diff PT



NSWRL U16 Matthews Cup Round 1
v North Sydney, 10:00am
Abandoned


Other U16 Matches

Abdnd Hill Wests        v Penrith
Abdnd Koga St George    v C Coast
Abdnd Belm Canterbury   v Parramatta
Abdnd Hens Syd Rstrs    v W Syd Acad
Abdnd Lyle Newcastle    v Cronulla
Abdnd Woll Illawarra    v Balmain
BYE        Manly
BYE        Canberra
     
               W D  L B Diff PT



NSWRL U18 Women's Tasha Gale 9s Cup Round 1
v Illawarra, Wollongong Stadium, 12:30pm
Abandoned


Other U18 9s Women's Matches

Abdnd Hill Wests        v Penrith
Abdnd Belm Canterbury   v Parramatta
Abdnd Hens Syd I Acad   v Canberra
BYE        Cronulla
     
               W D  L B Diff PT



---