1909 South Sydney DRLFC First Annual Meeting
26th February 1909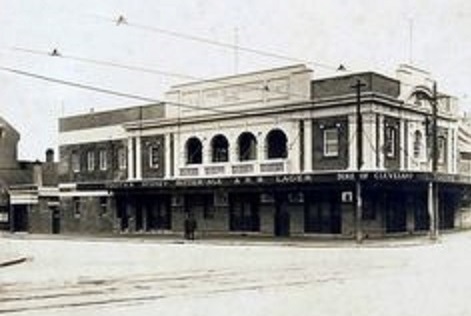 The South Sydney District Rugby League Club held its first annual meeting at the Alf Pick's Hotel, Cleveland St at 8pm Friday evening February 26.
A good attendance of League sports was the result, and they showed by their vim and enthusiasm that League football was going to boom next season as far as the Souths were concerned. Lots of Junior teams affiliated with the South's League.
Mr. Harry Hoyle — he of the excessive vocabulary — presided, any in a vigorous and characteristic speech started out to tickle, slash and plaster all and sundry. He tickled his auditors, mercilessly slashed his opponents, and plastered with taffy dollops all adherents to the League. He laid bare the schemes that the mice and men of Union football have done to down the blokes who kick the leather merchants' goods for gonce. He said that the League, by sending a team to England the first year of its existence, accomplished more than the Union did for over 20 years. Which, bedad, is quite true for yez, Harry, me bhoy. If the dingy warriors from the Dominion had been present they would have turned as pale as the lilies of the valley at his remarks about them. He slashed them and the 'boss' bloke a treat for their alleged apostasy. Harry Rawson and the late Guv-General he blew skyhigh for their non-patronage. Gee whiz! he alleged certain dirty doings by certain officials that made the writer gasp at Harry's temerity.
But 'Hoyle' on troubled waters soon produces a calm, and Harry's speech soon flowed from him as smoothly as treacle running down a drainpipe. He said Vic Trumper was a white man, who stuck to the League by signing cheques when the League were on the rocks. Vic. put his hand in his bifurcated garments and gave them two hundred quid. Harry also said that there would be no team from England this next season, as they wanted a 60 per cent, gate receipt, and a guarantee of three thousand of the best. He promised the Leaguers that they would get trips to the country during the season, all exes paid, and a good time to boot. Great joy in the camp.
The medals won last season are to be exhibited in a linen shop in Brisbane, to boom the game in that city of sweat and prickly heat. The team now getting walloped in old England are going to play a series of matches on their return against a rep. N.S.W. team, a metropolitan team, a Coalopolis team, and a Queensland ditto, and the said team will have their pockets bulging with bullion on their return from the tour. So deponeth H.H. Whatever may be sa d to the contrary, in Hoyle, Giltlnan and Victor Truraper the League footballers have a happy trio of conscientious workers, who, at their best or worst, cannot make a fortune at the game, notwith standing the calumnies heaped upon them by so-called shrewdies, who have not enough nouse themselves to run a baked potato can, and who couldn't make enough at any game to fatten a nit. The time, energy, worry and out-of-pocket expenses that this combination have to meet in their advocacy of the game is a credit to their enthusiasm.
During the meeting bouquets were handed to various gents for their patronage to the Souths. Sport Pick coming in for a large floral tribute. A special vote of thanks was tendered 'Sportsman' for the very fair treatment meted out to Leaguers through its columns, other papers being strictly tabooed.
The South's indefatigable secretary, Tom Peters of ponydom. is the right man in the right place. He fairly beamed with happiness, and when a vote was passed for his past services, his classic chiv rippled with smiles, even as you see the circles in a dunkpond widen into enormity when a kinchen surreptitiously drops the domesticated bullpup into it.
The following officers were elected for the forthcoming season:-

President :-      H.C.Hoyle
Vice-presidents:- J.C.Watson M.H.R., 
                  Dr. Langton,
                  J.McCauley (mayor of Waterloo),
                  Vlderraan Roche, 
                  Alderman Ross, 
                  J.A.E.Pick, 
                  J.Underbill, 
                  J.J.Smith, 
                  P.H.Walsh,
                  V.Negus,
                  Fergus Perry,
                  M.Stanley,
                  J.Fitzgibbon 
Hon. Sec. :-      T.H.Peters
Hon. Treasurer and delegate to N.S.W. Rugby League, Geo. Ball
Captain pro tem:- A.Conlin
Committee:-       Messrs. Conlin, Wells, Green, Schroeder, Storie, Fry

Credit balance from last season:- £24 8/3


Financially it was a tight year as the club scraped through with a modest profit. George Ball balance sheet tells a story of revenue being 44 pounds 18 shillings.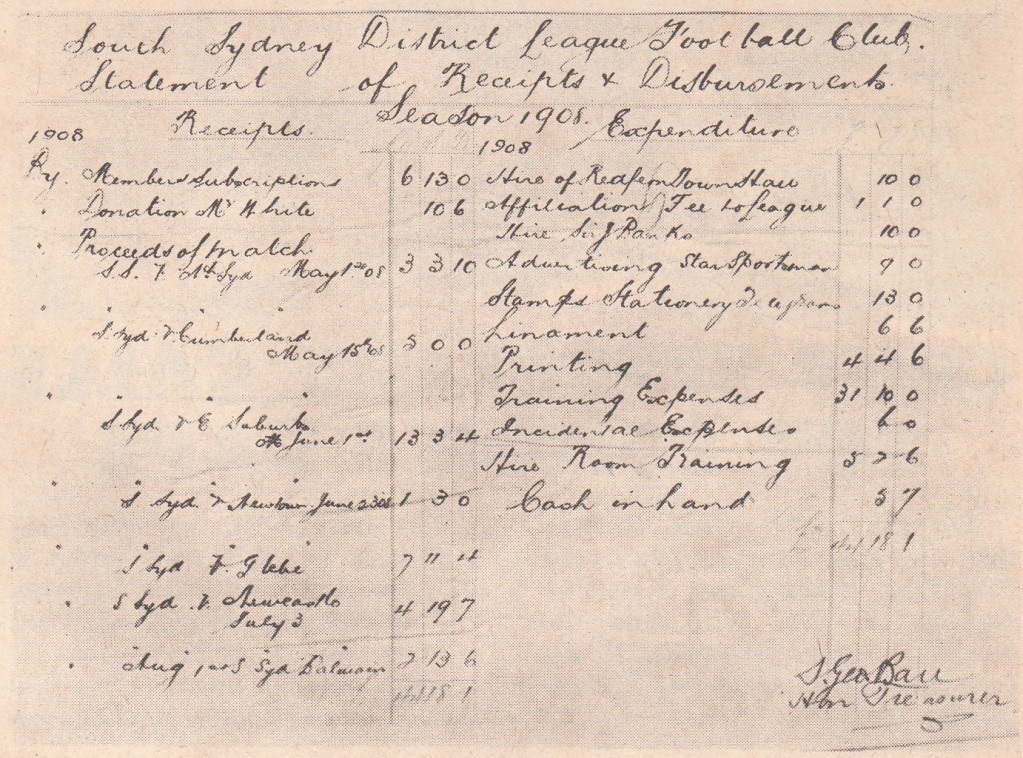 ---