2023 Rabbitoh Senior Squads
29th November 2022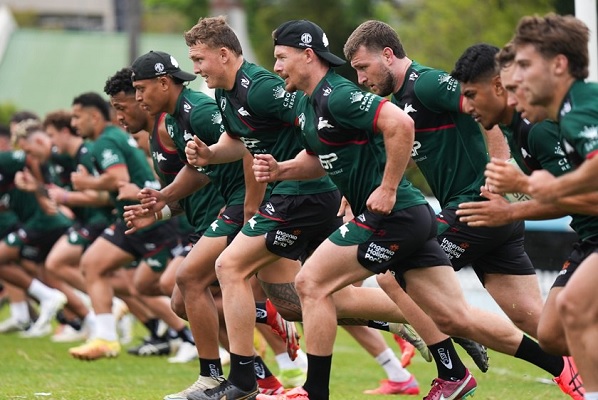 The Rabbitohs NRL and senior pathways squads are taking shape for Season 2023 with the Rabbitohs players returning to training this month. Contracted players and train-and-trial hopefuls from the NRL, NSW Cup, NSW Women's Premiership and Jersey Flegg Cup (U21s men's) squads have been plying their trade at Erskineville Oval in Erskineville and Pioneers Park in Malabar, beginning preparations for the upcoming season.
NRL
The Rabbitohs have finalised their top 30 contracted players as well as three development positions and current train and trial contracts for the pre-season. The Club has also confirmed its NRL coaching structure for the new season. Rabbitohs Head Coach Jason Demetriou will lead the Rabbitohs into his second season as an NRL Head Coach in 2023, assisted by Ben Hornby, John Morris and Sam Burgess. John Sutton and Joe O'Callaghan will work as development coaches with the squad, with the highly regarded Andrew Croll joining the Club as High Performance Manager.
Sam Burgess has a storied history with the Rabbitohs as a player and will join the NRL coaching ranks after a successful season coaching in grassroots football with the Orara Valley Axemen on the NSW north coast.
Andrew Croll joins the Rabbitohs following successful stints with the Brisbane Broncos, North Queensland Cowboys, Queensland State of Origin, Tonga and the Queensland Academy of Sport.
Rabbitohs Head of Football, Mark Ellison, is very happy with the quality of the players in the squad and the coaching staff leading the football program in 2023. "We have a quality group of players and coaches here at the Club, from the NRL group right throughout our Pathways system," Mr Ellison said. "We have a stable group of players in our top 30 and some exciting prospects coming through as well. 'JD' (Jason Demetriou) did a fantastic job this year in his first season as a Head Coach and we're looking forward to seeing him lead this group again in 2023. It will be great to have Sam (Burgess) back on board with the Club, offering his experience to the playing group alongside experienced coaches in Ben (Hornby) and John (Morris). Andrew (Croll) is a leader in his field and we're fortunate to be able to add him to our High Performance team."
Coach Demetriou says it is an honour to lead this group of players and coaches at South Sydney. "I'm so excited about this season coming up and to be working with this group of people will be unreal," Coach Demetriou said. "We've got a great rapport amongst the whole playing and coaching group and it has been great to add Sam and Andrew to the crew. Sam's contribution to the Club as a player is well documented and he is adding great value as a coach as well. I've had the privilege of working with Andrew before at the Cowboys and Broncos and he is one of the best, if not the best, in his field of high performance. Our 2023 pre-season is underway and we can't wait to get more players back to training, as well as getting to represent our Members, supporters and communities that support South Sydney and Souths Cares all year round."
The South Sydney Rabbitohs are proud to announce our 2023 NRL Top 30 contracted Squad. Congratulations to the following players:
Arrow, Jai
Burgess, Thomas
Cartwright, Jed
Chee Kam, Michael
Cook, Damien
Graham, Campbell
Havili, Siliva
Hawkins, Dean
Host, Jacob
Ilias, Lachlan
Johnston, Alex
Kalo Kalo, Terrell
Karapani, Josiah
Knight, Liam
Koloamatangi, Keaon
Lovett, Ben
Mamouzelos, Peter
Milne, Taane
Mitchell, Latrell
Mitchell, Shaquai
Moale, Davvy
Murray, Cameron
Sele, Hame
Suluka-Fifita, Daniel
Taaffe, Blake
Tass, Isaiah
Tatola, Junior
Te Hau, Leon
Thompson, Izaac
Walker, Cody

The 2023 NRL Development players are
Duncan, Tallis
Gray, Jye
Munro, Tyrone

The 2023 NRL Train & Trial players are
Hodge, Cody
Kennar, Richie

NRL Coaching Staff

NRL Head Coach                - Jason Demetriou
NRL Assistant Coach           - Ben Hornby
NRL Assistant Coach           - John Morris
NRL Assistant Coach           - Sam Burgess
NRL Development Coach         - John Sutton
NRL Development Coach         - Joe O'Callaghan
High Performance Manager      - Andrew Croll


Pathways
Rabbitohs Head of Elite Pathways and Player Development, Joe O'Callaghan, says the Club is looking to improve on results from the 2022 season as well as to provide opportunities for players to excel in their own age group before progressing into higher grades. "We've worked hard to put together competitive squads at pathways levels for 2023," Mr O'Callaghan said. "We want to win football games, however we also want to provide the best opportunities for players at our Club to develop as footballers and as people, and to progress through the grades so they can reach their potential. One of the ways we'll be doing that this year is making sure our players excel at their own age group before progressing into higher grades. We found last season we elected to, and sometimes needed to, bring players up through the grades before they were ready. For example, 2022 was a difficult year for our Flegg team, but we've tried to stay as loyal as we can to the guys that performed at or close to their best week-in and week-out for 2023. We had ten players from last year's final round squad still eligible to play SG Ball at the time, so we're looking forward to that year's experience helping them develop their games to take the step up to the Flegg level in 2023. Going into our fourth year of the Black Rabbits program, we've seen ten players in our full time NRL program in 2023 come through the Black Rabbits system. We have another eight current Black Rabbits doing NRL pre-season training, getting the experience of training full-time at an NRL level for between 8-16 weeks this pre-season."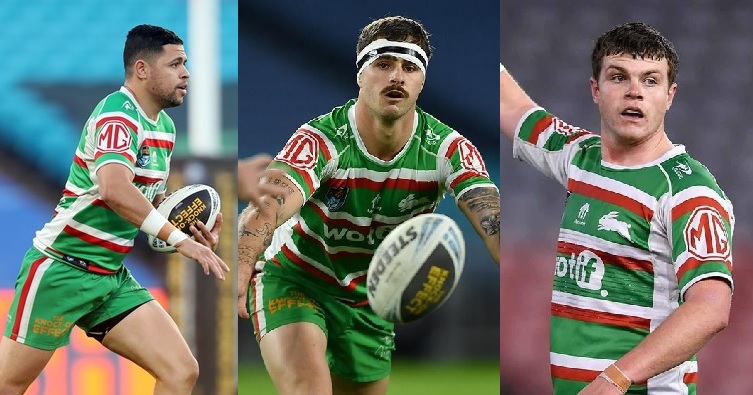 NSW Cup - Reserve Grade
Re-signings
Jacob Gagai – a centre or fullback that returns this year with the opportunity to train with the NRL program throughout the pre-season. Very experienced at this level and is a leader amongst the team having had the opportunity to captain the side at stages in 2022.
Shannon Gardiner – clever utility player that played every game for the NSW Cup squad last season. This is his third year at NSW Cup level and he is becoming a senior player within the squad.
Hugo Patterson – front rower or lock that had a breakout year last year. He played every game in his first year at NSW Cup level and will be pushing to become a regular starter in 2023.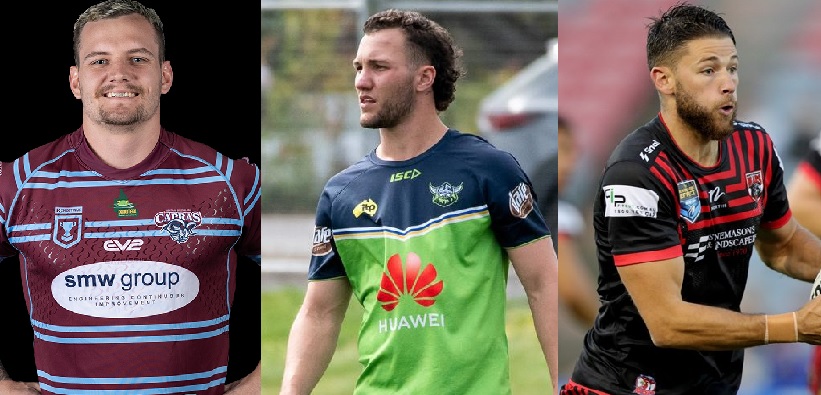 Recruits
Ethan O'Neill – a second rower coming off a successful season with the Central Queensland Capras in the QLD Cup last season. Has played 28 games of QLD Cup football, scoring nine tries. Has Rabbitohs pedigree being the son of former Australian and Queensland State of Origin player Julian O'Neill. Has the opportunity to train as part of the NRL pre-season.
Jarrett Subloo – a former full-time player with the Canberra Raiders, joins the Rabbitohs in 2023 as a five-eighth from Mounties in the NSW Cup competition.
Tom Carr – Highly experienced winger from the North Sydney Bears. Noted try scorer having been the second top try scorer last year behind our own Izaac Thompson. Has played 67 games for the Bears since 2016, scoring 50 tries.
The 2023 NSW Cup contracted players are
Alvarado, Tristan
Carr, Tom
Chanfoon, Maila
Chapman, Chase (Mounties)
Gagai, Jacob
Gale, Lachlan
Gardiner, Shannon
Giles, Thomas
Gordon, Yileen
Hardman, D'Arcy
Hodge, Tyson
O'Neill, Ethan
Patterson, Hugo
Peoples, Trent
Robinson, Chaise
Skelton, Leonard (centre - St George-Illawarra)
Subloo, Jarrett

NSW Cup train-and-trial A-grade portability players are:
Bentley-Hape, Bayleigh (South Eastern Seagulls)
Hyslop, Che (La Perouse Panthers)
Lovett, Kurt (Coogee Dolphins)
Makk, Matthew (Mascot Jets)
Margaritis, Lukas (Coogee-Randwick Wombats)
Moretti, Marco (Matraville Tigers)
Phillips, Ezekiel (Redfern All Blacks)
Makelim, Zac (La Perouse Panthers)


NSW Cup Coaching Staff

NSW Cup Head Coach            - Joe O'Callaghan
NSW Cup Assistant Coach       - Jason Dorahy
NSW Cup Development Coach     - Beau Falloon


U21 - Jersey Flegg Cup
Re-signings
Jaxson Rahme – a lock or second rower who is looking forward to using his experiences playing for Lebanon at the Rugby League World Cup. Has been rewarded with an NRL pre-season training spot.
Louis Grossemy – a back rower who played SG Ball Cup and Jersey Flegg Cup in 2022. He played for France U19s in the off season. Louis will have a key role to play in the U21s side this year coming off an opportunity to take part in the NRL pre-season.
Romano Cook – a hooker who had a taste of NSW Cup football last year. Wily and fast with leadership qualities. Also has the chance to develop throughout an NRL pre-season this year.
Recruits
Jude Saldanha – an exciting fullback joining the Rabbitohs from East Tigers in the Hastings Deering Cup.
TJ Toevai – a powerful front rower that joined the Rabbitohs late last season from the Roosters.
Emmanuel DiBartolo – a Souths junior who is returning to the Club after a stint in the Sea Eagles Jersey Flegg Cup system. A five-eighth with a strong kicking and running game.
The 2023 U21 Jersey Flegg contracted players are
Abou-Arrage, William
Bray, Keahlan
Chapman, Isaac
Chester, Mitchell
Cook, Romano
DiBartolo, Emmanuel
Donnelly, Archie
Griffiths, Trent
Grossemy, Louis
Hawe-De Thierry, Dranza
Jang, Braydon
Kaho, Carson
Kurnoth, Aaron
Laui, Etuate
Lester, Harley
Leugaimafa, Deijion
Manning, Evan
Mercy, Drey
Mezzomo, Oscar
Mocevakaca, Joshua
Nohra, Joseph
Paki, Lachoneus
Rahme, Jaxson
Reeve, Mitchell
Taliai, William
Teaupa, Dion
Toevai, TJ
Tweedie, Cruise
Vailalo, Isaiah
Wilkins, Zayn
Williams, Dylan
Woodford, Taine
Wright-Dunrobin, Keanu

The 2023 U21 Jersey Flegg train-and-trial contracted players are
Cowan, Nathaniel
Jinks, Samuel
Kokkinos, James
Lepua, Kobe
Levi, Douglas
Palu, Faresa
Patolo, Terence
Saldanha, Jude


U21 Jersey Flegg Coaching Staff

U21 Jersey Flegg Head Coach      - Chris O'Connell
U21 Jersey Flegg Assistant Coach - Kell O'Brien


NSW Womens
The 2023 NSW Women's Premiership contracted players are
Aroha-Hapuku, Te
Backhouse, Nicole
Barber, Tasmin
Caine, Terri Ann
Collins, Jenaye
Cook, Tia
Donovan, Turzah
Duckett, Iesha
Duckett, Tymekqwa
Duff, Pihuka
Filipo, Sian
Kilisimasi, Seneti
Killick, Indiana
Kiraz, Jacinta
Knapp, Paige
Longford, Mardi
Maaka, Ashlee
Maejiirs, Josephine
Najjar, Monique
Nathan, Nicole
Paki, Aaliyah
Perugini, Nikki
Raikadroka, Patricia
Rainima, Ema
Rooke, Jamie-Lee
Schwalger, Oneata
Simpson, Rachel
Simpson-Carr, Darci
Sulusi, Alexandra
Tokabobo, Adi Melaia