Latrell Mitchell 2024-27 & Walker 2024-25 Contract Extensions
21st December 2022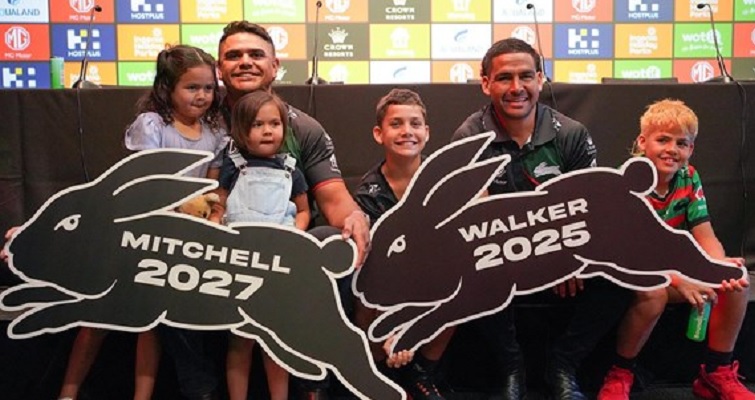 The South Sydney Rabbitohs are delighted to announce the contract extensions of representative players Latrell Mitchell and Cody Walker today. Indigenous All Stars, Australian Kangaroos and New South Wales representative Latrell Mitchell has recommitted to the Rabbitohs until at least the end of the 2027 season, while Indigenous All Stars and New South Wales representative Cody Walker has extended his contract until at least the end of the 2025 season.
Latrell, 25, has played 144 NRL matches since making his debut in 2016, of which 48 have been for the Rabbitohs since joining the Club for the 2020 season. Mitchell, a proud Biripi and Wiradjuri man, has also played in four Indigenous All Stars games, nine Test matches for Australia, seven State of Origin matches for New South Wales, won two NRL premierships in 2018 and 2019 and helped guide South Sydney to an NRL Grand Final and two Preliminary Finals appearances in his three seasons at the Club. Latrell has won two Dally M Top Points Scorer awards, was named the 2019 Dally M Centre of the Year, was awarded the NSWRL True Blue Award in 2021, and played an integral role in Australiaís World Cup victory this year. He also captained the Rabbitohs for the first time during the 2022 season. Mitchell is regarded as one of the superstars of the NRL.
Latrell says he has never felt more at home in Rugby League than in the last three years at the Rabbitohs. "Iím so happy to have found my home here at South Sydney," Mitchell said. It really does feel like family here and I know my partner Brielle and our girls feel the same. Iíve had opportunities here that I would never have had at other clubs, and we have more opportunities ahead of us in the future. I know I can express myself here, on and off the field, and Iím supported by everyone from the Club and the communities we represent. Itís an honour and a privilege to represent Souths and Iím so excited about what we can all achieve together in the coming years."
Rabbitohs Head of Football, Mark Ellison, says he is excited about the future. "Latrell is one of the best players in our game, that is without doubt. His presence and the influence he can have on any game or any situation is matched by his presence and influence he has off the field, in both the Aboriginal community and broader society. Latrell has grown to become a leader at our Club, amongst the players in the NRL, and within his community, and he has become a key contributor to the outstanding community work conducted by Souths Cares. When he speaks, people listen, both on the field and off it. He is a superstar of our game and we think his best football is still in front of him. He works very hard on his game and we think he can go to further levels here in the cardinal and myrtle of the Rabbitohs. Latrell and his family have found their home here at South Sydney and we could not be more delighted to have secured his services for a further four years."
Walker, 32, has played 169 NRL matches for South Sydney since making his debut against the Roosters in round one, 2016, in the same game as his now teammate Latrell Mitchell. Cody, a proud Yuin and Bundjalung man, has gone on to become one of the most dangerous attacking weapons in the NRL, scoring 82 tries himself and recording 135 try assists over his seven seasons playing in the elite NRL competition so far. Walker has represented the Indigenous All Stars on two occasions, captaining the side in both matches and will join the coaching staff of the team in 2023 as a player/coach, has played four games for New South Wales in State of Origin, and is a two-time, back-to-back winner of the George Piggins Medal, the best and fairest player at the Rabbitohs in seasons 2020 and 2021. Walker was crowned the Dally M Five-eighth of the Year in 2021. Cody was one of the key figures in leading the Rabbitohs to the 2021 NRL Grand Final, who also works tirelessly in the community, offering his time and fundraising efforts for many community organisations including being a leading light for Souths Caresí programs. Walkerís work in the community is so prolific that he was awarded the Ken Stephen Medal in 2022 as the NRLís Man of the Year.
Walker says he is very happy to be extending his time at South Sydney. "This place has become home to me and my boys. Weíre all able to be active in our community and to have a voice on things that are important to us. My best football has been played here and I reckon I can go further over the next three years and help this Club win its next premiership. Weíve had some success over the past few years, but we need to take that next step and I truly believe we can do that with the squad, coaches and staff that we have here. The Rabbitohs mean so much to so many people and itís fantastic to represent the Club and our people every time we pull on the jersey."
"Cody started his NRL career later than most, making his debut at the age of 26, but hasnít he made up for lost time! He is one of the most naturally talented players in the game today and heís not slowing down. His footwork and sleight of hand is second-to-none and he is a leader amongst his Rabbitohs teammates. Equally as impressive is his work in the community, particularly with Souths Cares and other Aboriginal charities. He is always one of the first to put his hand up to help people and it shows great character to be able to give your time and assistance to those less fortunate. He has become a powerful voice in the game for Indigenous issues and is regarded as a leader amongst his peers. He is someone everyone wants to play with and you canít get a bigger rap than that in the game. Weíve watched Cody mature during his time at the Rabbitohs, weíve seen him become a doting dad to his boys Kyan and Kade. He is a special person and itís a pleasure to work with him every day."
"These two men are wonderful re-signings for our Club, both leaders within our group, and I canít wait to see what they can produce in the coming years," Mr Ellison said.
Ref - SSFC [Viewed 26 Dec 2022] / FN-1
---
© 2023 SSR Almanac / HOME / RETURN