2023 - The Cyber View from the Hill
10th May 2023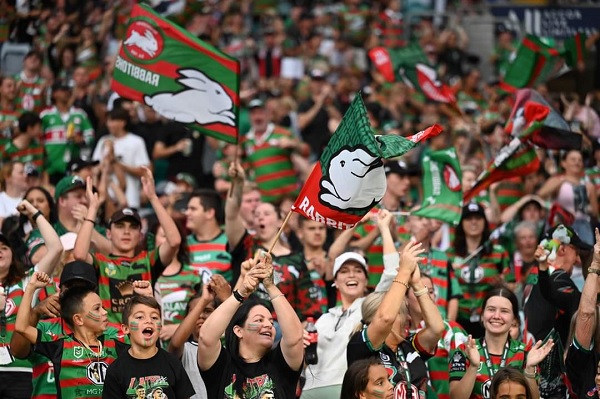 Storm Crushed
It was a strong performance from the outset as Souths dominated the Storm. Our goal line defence was surpurb throughout the game with their two tries coming from unlucky kick and dummy half. But what was most impressive after a number of weeks wehere our right side dominated, we saw our left side click this week scoring 5 tries. We have moved into outright second beating competition heavyweights Penrith and Melbourne and competition leaders Brisbane in the last 3 weeks and winning 5 in a row. We return home for a match against last place Tigers who have a new lease of life after two wins.
Johnston double
Alex Johnston celebrated his 200th NRL game on the weekend by bagging another two tries as our left side attack clicked back into gear. He now has 171 tries and sits in 5th place on the all-time try scorers list.
Tom Burgess milestone
Congratulations to Tom Burgess who has moved into outright 3rd on the Rabbitohs first grade premiership games all-time list of players. He is now only behind John Sutton and Adam Reynolds. And there seems to be plenty more games in those legs.
Taaffe Show
Blake Taaffe had one of his best games in reserve grade on the weekend. He was instumental on getting the team back into the game with his long range tries and goal kicking. Before he combined with Thompson and Kennar to send Mamouzelos for the match winner. He will be a vital member of the team during the up coming Origin period.
Vegas in 2024?
This week Peter V'Landy's has headed over to Los Vegas to setup a possible 2024 season opener in the USA against Manly as the NRL looks to lock extra funds from the US gambling market. It will be interesting to see if this events finally get the go ahead, as it will back on the star power of Russell Crow and Hugh Jackman to make it a success. But over the last 60 years since the original American All-Stars came out to Australia in 1953, it has proven very difficult to crack the potential US market. Even though there are many players who cannot make the NFL that would be ideal for Rugby League.
Bunnies TV - Weekly Segment
The boys recap the weekend
Round 10 - Stat Attack
Statistically it was a average game. Completions improved to 76% from 72% last week. Errors improved to 11 from 13 last week. We gave away 5 penalties and 2 6-again calls from 10 last week. Souths Effective 1st tackle dropped to a average level of 34.6m from 32.8m last week. Our missed tackles improved to a poor level of 31 from 37 last week. Opposition offloads improved to 5 from 6 last week.
Looking at our left side defence - Johnston-Tass-Walker-Host/Cartwright (1-2-4-4) dropped to 11 from 7 missed tackles last week. On the right side Milne-Graham-Ilias-CheeKam/Arrow (1-6-2-1) improved to 10 from 11 missed tackles last week. Ruck defence HSele/Burgess-DCook-Tatola/Arrow-Murray/Knight (2-3-1-3) improvd to 9 from 19 missed tackles last week.
Our go forward dropped to 1632m from 1851m last week. Burgess, DCook, Cartwright and L>Mitchell made 10+m per run. Burgess, Host, Murray, Knight, Milne and Graham made 100+m in the match. Defensively D.Cook was our best in the tackling raking up 35 tackles. HSele, CheeKam and Tatola didn't miss a tackle.
News This Week
none
Round 10 Preview
Recent 2023 Form - South Sydney (2nd)

Rd08  Penrith    StAu W 20-18
Rd09  Brisbane   LngS W 32-6 
Rd10  Melbourne  LngS W 28-12

Recent 2023 Form - Wests-Tigers (17th)

Rd08  Manly      Camp L 16-22
Rd09  Penrith    Bath W 12-8  
Rd10  St Geo-Ill LngS W 18-16

Recent South Sydney v Wests-Tigers Results

2020 Rd09  WSS  W 18-10  4,864 B.Cummins
2020 Rd18  WSS  W 26-24  3,801 B.Cummins
2021 Rd06  StAu W 18-14 16,134 G.Sutton (GP)
2021 Rd16  Leic W 38-22      0 G.Atkins
2022 Rd07  WSS  L 22-23 14,251 Z.Przeklasa-Adamski
2022 Rd12  StAu W 44-18 13,585 C.Sutton