2023 - The Cyber View from the Hill
17th May 2023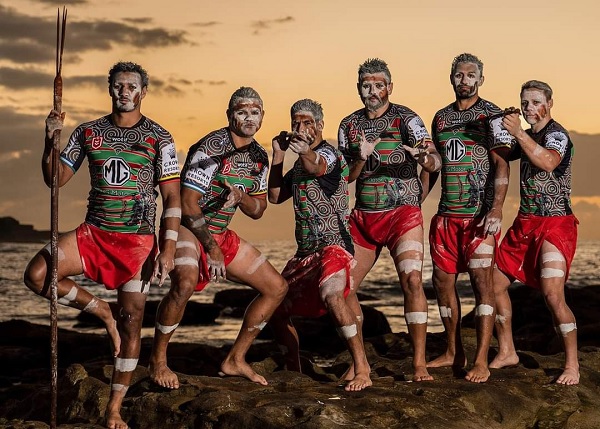 Top of the Table
It was a tough encounter with our cross city rivals, where they made it a arm wrestle all game. But our defense was outstanding as they the team grinded out a tough win keep the try line intact, as we put some late points to make the score line look respectable. We now have won 6 in a row to lead the competition table on differential. Six more wins to qualify for the finals We now return to the new SFS for a match against last years Runners Up who are desperate for a win in the indigenous round.
Milne double
Taane Milne has stepped in to fill in for Thompson when he was injured and has returned to his form from 2022. It was great to see him chime in on the back of the backline and score two tries.
Thompson hattrick
Just when the team needed him, Izzac Thompson scored a hattrick of tries as the reserve grade team stormed home to win. The last try to win the win was one of the best winger tries seen at the stadium. Just as he was finding form, he injured his knee and went in for cleanout surgery.
Woodford debut
Its been a tough road for Taine Woodford who has comeback from a turmor in his chest, with the one desire of making it to the NRL. On the weekend was his first step along the path as he came off the bench in our Flegg team. He looks like a strong prop. We wish him all the best.
Disaster in France
News out of France this week is a disaster for the creditability of the Rugby League World Cub. The IRL was asked to guarantee a $12 mil loss by the French Government, and could not do it. This was hot the heals of two very poor performances by the French mens and womens teams, two weeks prior. It was scene in FRance not seen since Vichy period, and will put the France back 20 years in its Rugby League development. The 2025 RLWC is now in disaray as new hosts are being sought. The ARLC now has the ability to save the RLWC and stamp its T&C going forward, or it could allow the RLWC 2025 to get cancelled rather than building upon the success of the 2023 RLWC.
Bunnies TV - Weekly Segment
The boys recap the weekend
Round 11 - Stat Attack
Statistically it was a good game. Completions improved to 85% from 76% last week. Errors improved to 9 from 11 last week. We gave away 2 penalties and 1 6-again calls from 7 last week. Souths Effective 1st tackle dropped to a average level of 28.2m from 34.6m last week. Our missed tackles improved to a outstanding level of 14 from 31 last week. Opposition offloads dropped to 6 from 5 last week.
Looking at our left side defence - Johnston-Tass-Walker-Host/Murray (0-1-1-0) improved to 2 from 11 missed tackles last week. On the right side Milne-Graham-Ilias-CheeKam (1-2-1-2) improved to 6 from 10 missed tackles last week. Ruck defence Tatola/Knight-DCook-HSele/Arrow-Murray/Knight (2-2-2-0) improvd to 6 from 9 missed tackles last week.
Our go forward improved to 1825m from 1632m last week. Tatola, HSele, Cartwright, Milne, Johnston and Graham made 10+m per run. Tatola, HSele, Murray, Arrow, CheeKam, Knight, Milne, Graham, Johnston and Tass made 100+m in the match. Milne made 200+m in the match. Defensively D.Cook was our best in the tackling raking up 54 tackles. Host, Murray, Johnston, L.Mitchell and Cartwright didn't miss a tackle.
News This Week
France withdraws from RLWC2025
Inaugural Eric Simms Medal
Round 11 Preview
Recent 2023 Form - South Sydney (1st)

Rd09  Brisbane   LngS W 32-6 
Rd10  Melbourne  LngS W 28-12
Rd11  Wests-Tig  StAu W 20-0 

Recent 2023 Form - Parramatta (14th)

Rd09  Newcastle  WSS  W 43-12
Rd10  Gold Coast LngS L 24-26
Rd11  Canberra   Bruc L 18-26

Recent South Sydney v Parramatta Results

2020 Rd16  WSS  W 38-0   7,012 G.Sutton
2020 MSF   WSS  W 38-24 14,510 G.Sutton
2021 Rd12  StAu W 38-20 20,743 G.Sutton
2021 Rd21  Robi W 40-12      0 A.Klien
2022 Rd16  StAu W 30-12 10,102 B.Cummins
2022 Rd22  WSS  W 26-0  22,958 G.Atkins