Latrell Mitchell wins 2023 Ken Stephen Medal
27th September 2023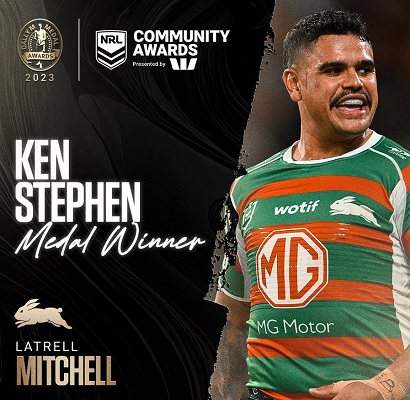 The National Rugby League (NRL) is pleased to announce Latrell Mitchell as the winner of the 2023 Ken Stephen Medal – Man of the Year, presented by Westpac for his outstanding community involvement. The Rabbitohs fullback was confirmed as the winner as part of the NRL's Dally M Awards night in Sydney at The Winx Stand, Royal Randwick Racecourse. The Ken Stephen Medal – Man of the Year, presented by Westpac, is given to an NRL player who has not only achieved on the field but has gone above and beyond in committing time off the field to community projects such as charity work, youth development or community support. A Taree Red Rovers junior, Mitchell is proud of his heritage and ensures that he is a positive example of inclusivity and unity for all. Stemming from his own humble upbringing, Mitchell has a particular focus on helping Indigenous communities, regional NSW, mental health and grass roots rugby league, and continues to give his all to anything he sets his mind to. Mitchell has helped grass roots juniors, Indigenous and female teams achieve their dreams by making discrete financial donations, without the pursuit of public accolade, whilst also taking part in leadership and cultural camps such as the Liverpool Opportunity Hub, Nanga Mai Marri (Dream Big) program and Deadly Youth Mentoring Program. Whether it is helping rural towns re-build after natural disasters, campaigning against online bullying, or becoming a mental health ambassador of the Goanna Academy, Mitchell's passion and dedication ensure that he makes a significant difference on and off the field.
"Latrell is an incredible player, inspirational person and wonderful leader in the game," NRL CEO Andrew Abdo said. "Latrell has helped rural towns re-build after a natural disaster, campaigned against online bullying, become a mental health ambassador of the Goanna Academy. He dedicates his all to the community and has made a positive impact on many people's lives."
The Ken Stephen Medal – Man of the Year is proudly supported by Westpac and forms part of the NRL Community Awards, which have become the most significant opportunity for our game's unsung heroes to receive the recognition and thanks they deserve. "At Westpac, we take great pride in our partnership with the NRL Community Awards and would like to congratulate this year's Ken Stephen Medal recipient, Latrell Mitchell," Westpac Chief Brand and Marketing Officer, Annabel Fribence said. "Latrell is a player who not only excels on the field but also demonstrates a strong commitment beyond the game, as showcased through his support of grass roots and community programs."
Mitchell is the 35th winner of the Ken Stephen Medal, with a host of worthy recipients receiving the prestigious award since Wayne Pearce won the inaugural medal in 1988. Mitchell's supporting charity and junior club will receive $3,500 as a result of him claiming the Ken Stephen Medal – Man of the Year, as well as an additional $2,500 split between his junior club and supporting charity after he also the fan vote. All players named alongside Mitchell in the NRL Community Team of the Year will receive $1,000 for their junior club.
Rabbitohs fullback Latrell Mitchell has been announced as the Ken Stephen Medal winner for season 2023, taking out the NRL's Man of the Year title at tonight's Dally M Awards. Latrell is renowned for his community engagement work with both Souths Cares and in his own time, helping change and enrich the lives of thousands of children and adults every year. Latrell Mitchell's passion for the game of Rugby League is unquestionable, as is his desire to help the community, particularly youth. The same grit and determination Latrell displays on the field, he also displays off the field in his community work, advocacy and support for individuals in need of assistance. Stemming from his own humble up-bringing in the regional NSW town of Taree, Latrell is passionate about many initiatives outside of his club commitments, with a focus on Indigenous communities, regional NSW, mental health and grassroots Rugby League. Throughout 2023, Latrell visited the communities of Cabbage Tree Island, Brewarrina and Comboyne to support communities impacted by floods and to promote grassroots Rugby League. He offered his time and support in his own time to try and help those affected by the floods and to put a smile on the face of the children who live in these regions. Latrell has courageously campaigned against bullying and racism, utilising his platform as an NRL player to bring awareness to these issues and calling for change. He is often unjustly targeted for taking a stand against racism and bullying, yet he continues to stand against these abhorrent behaviours and advocate for his people. Latrell has been a great supporter of Souths Cares' transformational programs and has supported the charity by delivering anti-bullying workshops, attending Souths Cares events and generously hosting Souths Cares' Male Leadership and Cultural Camp on the family's farm in Taree. Latrell has supported countless individual requests for assistance, which he has done discreetly without the pursuit of public accolade. Latrell's actions demonstrate generosity, courage, empathy, humility and integrity; all of which have seen him be awarded the Ken Stephen Medal as the NRL's Man of the Year. Latrell's award was presented at the Dally M Awards in Sydney, the second year in a row that the Ken Stephen Medal has been won by a Rabbitohs player. In 2022, Cody Walker won the award, earning the title of the NRL's Man of the Year. Former Rabbitohs captain Michael Andrews also won the award in 1993. Congratulations to Latrell Mitchell on winning the Ken Stephen Medal for season 2023.
Ref - SSFC [Viewed 28 Sep 2023] / NRL [Viewed 28 Sep 2023] / FN-2
---
© 2023 SSR Almanac / HOME / RETURN