Demetriou & Hornby 2025-26 Coaching Extensions
4th October 2023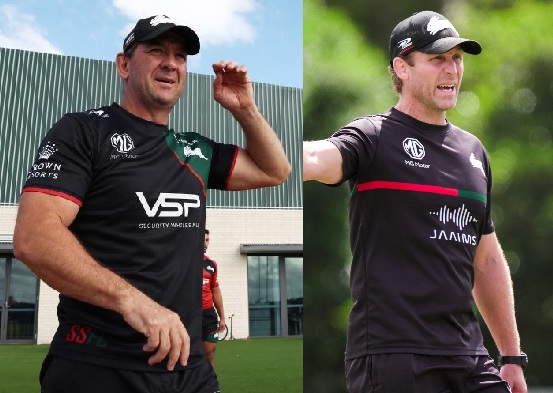 The South Sydney Rabbitohs are delighted to announce the contract extensions of Head Coach Jason Demetriou for a further two seasons until the end of 2026, and Assistant Coach Ben Hornby for two seasons until the end of season 2025.
Demetriou has coached 51 NRL matches to date, all of which have been with the Rabbitohs, since taking the first grade reins at the start of the 2022 season. Demetriou led the Rabbitohs to a Preliminary Final appearance in his first year as an NRL Head Coach, as well as a Grand Final in 2021 and two Preliminary Finals while Assistant Coach in 2019 and 2020. Demetriou will have a more hands-on coaching role from 2024 onwards, taking control of the team's defence. Demetriou is excited about the future of the Rabbitohs. "It is an absolute honour to coach this club and I feel very privileged to be extending my time at South Sydney," Coach Demetriou said. "I'm really looking forward to the challenges ahead of us in 2024. can assure all of our Members and all of our fans that we will be representing the Rabbitohs in the best way we can each and every day and we are all very excited about what lies ahead for us next season and into the future."
Rabbitohs Chairman, Nicholas Pappas AM, said of Demetriou's contract extension: "The Board is delighted to be able to extend Jason's tenure with the Club for a further two seasons. "Jason is a coach NRL players want to play for, as well as a head coach aspiring coaches want to learn from and be led by. We are confident that he will bring more success to the Rabbitohs in coming years."
2024 Coaching Re-Structure
4th October 2023
Following an end-of-season review into the 2023 season, the Rabbitohs have made a number of changes to its coaching, medical and football staff, as well as extending the tenures of other key staff and the continuation of other staff and structures within the Football Department. The Rabbitohs have recruited a number of new staff following the departure of some medical and coaching staff, most notably Head Physiotherapist, Eddie Farah, who has stepped down from his role with the Club after 17 seasons for personal reasons; Sam Burgess who has left to take on the Head Coach role at Warrington Wolves; John Morris who has joined the Wests Tigers as an assistant coach, and physiotherapist Luke Annesley.
Rabbitohs NSW Cup Coach and Head of Elite Pathways and Development, Joe O'Callaghan, will move into a full-time coaching role as an NRL Assistant Coach as well as maintaining the role as NSW Cup Coach where he won the Rabbitohs' 21st NSW Cup premiership this season.
South Sydney legend John Sutton will become a full-time Development Coach, working with O'Callaghan and the Club's elite young talent to ensure integration and alignment across all grades from NRL to under 17s.
Head of Performance, Andrew Croll, has extended his tenure with the Club for a further two seasons and ceased his role with the Queensland State of Origin team which will allow him to focus on the Rabbitohs throughout the Origin period in the middle of the season.
Head of Strength and Conditioning, Jack Milligan, has extended his contract with the Club for a further three seasons, with physiotherapists Paul Minei and Cuan Neyland also extending their tenures with the Rabbitohs.
Joining the Club as Head Physiotherapist is Crawford Quinn who comes to the Rabbitohs from AFL Grand Finalists, the Brisbane Lions. Quinn has worked previously with the Broncos, Rangers FC and Kilmarnock FC.
Renowned physiotherapist, Vicki Locke, joins the Club on a full-time basis as the Club's Rehabilitation Physiotherapist. Locke's joins the Club from the NSW Swifts with Rugby League experience gained from stints with the Eels and Roosters.
The Rabbitohs have recruited a Rehabilitation Coach in Sam Pervan, who joins South Sydney from the Manly-Warringah Sea Eagles with previous experience at Sydney University and High-Performance Sport New Zealand.
Brendan Fahrner will take on the Head of Sports Science role after more than a decade of experience at Richmond and Geelong AFL clubs.
To allow Joe O'Callaghan to focus on coaching, his previous roles in managing the Club's pathways system and recruitment will be the responsibility of two new roles that have been created at South Sydney. Tyrone McCarthy joins the Rabbitohs as Pathways Coaching Director. McCarthy joins the Rabbitohs from the Warrington Wolves where he was the Senior Academy and Development Coach. Renowned junior coach and talent scout, and former Rabbitohs first grade player, Brent Hill, will join the Club as the Pathways Recruitment Manager.
In the wellbeing space, Ian Reeves continues in his role as Head of Wellbeing, working with new recruits Ryan Gonsalves in the role of NRL Career Coach and former first grade player Jason Clark who returns to the Club as Pathways Wellbeing Manager.
Rabbitohs Head of Football Mark Ellison remains in his role with a focus on recruitment and coaching support, along with Chief Operating Officer Brock Schaefer who continues in his role managing football operations, staffing and key stakeholder engagement.
Rabbitohs CEO, Blake Solly, said the Club undertook a detailed review of all areas of the Football Department following the conclusion of the season. "We have identified the areas in which we can improve to return the Club to its goal of being a top four team every year. We worked with Shane McCurry and spoke extensively to players, coaches, staff and our Board on what we needed to improve in 2024" Mr Solly said. "We have already taken some steps towards rectifying the key areas that have been identified as capable of improvement. We will continue to make the required changes to return this Club to where it belongs. We're confident that we can return to the right end of the ladder in 2024. We know a ninth-place finish is not what is expected of our Club. Our Members and supporters expect more, our partners expect more, and we expect more of ourselves. We have great confidence in Jason and the entire coaching, medical and operational staff, to return our team to the Finals in 2024. We're delighted to see Jason and Ben extend their time with the Club, as well as the recruitment of some of the world's best practitioners in their fields to help our team perform at its best every day. The performance of our NSW Cup team shows the quality of the talent in our pathway programs, and the new roles for Joe and John Sutton are recognition of their tremendous work this season. I'd like to thank the staff and players that are departing our Club this year, in particular Eddie Farah who has given 17 years of fine service to the Rabbitohs. We wish him and his family the best with their future and they will always be welcome at the Rabbitohs. We're all looking forward to having our players back in the building come November this year as we get a much longer and stronger pre-season to prepare for kick off in 2024."
Ref - SSFC [Viewed 5 Oct 2023] / FN-1
---
© 2023 SSR Almanac / HOME / RETURN