Gagan and Tracey were trimmed 24 hours before the match. Tatola started at prop and George Burgess on the bench. Britt and Hiroti were 18th and 19th men.
No one has been charged from the match.
U20 NSW Jersey Flegg Cup - Round 8
v Wests-Tigers, Leichhardt Oval, Sat May 11 11:00am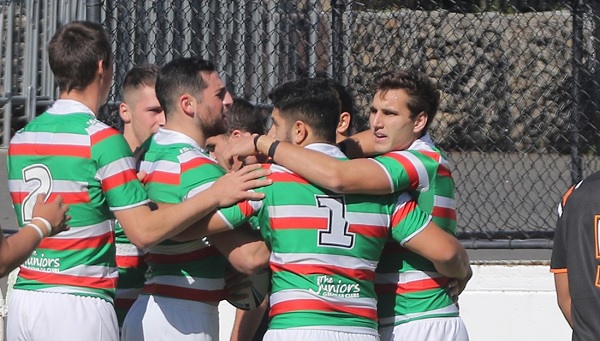 WIN 58-18
Late Changes - Manowski is out. Zampech starts at centre, Angianga on the bench. The South Sydney Rabbitohs Jersey Flegg side have run rampant at Leichhardt Oval, putting the Wests Tigers to the sword 58-18. Souths' hooker Josh Cook went on a first-half rampage from dummy half, setting up a try and scoring another to set his side up well for a 24-12 halftime lead. Cook was constantly probing from dummy half, getting past tired forwards and looking more and more like Damien Cook with each minute that passed. His effort out of dummy half to set up the opening try in the 7th minute was particularly impressive, splitting the Tigers' defence through the middle, before drawing Tigers' fullback Zac Cini and passing to halfback Blake Taaffe who scored under the posts. The Wests Tigers impressed early on, putting on some big shots in the opening set and dominating field position in the first five minutes. However poor execution close to the line let them down. Tigers fullback Zac Cini was impressive bringing the ball back, and scored a good try in the 14th minute, cutting the Rabbitohs' defence to shreds on the right edge. Silly mistakes hampered his game, however, with a knock on of his leading directly to a barge over try from Josh Cook. He also kicked out on the full at the following kick off, leading to a try to Kane Allan in the 25th minute. The second half started where the first left off, with Wests Tigers gifting Souths an early chance with a knock on in the first set. Souths took full advantage, scoring through Ky Rodwell to lead 30-12. The Tigers showed some fight, striking back through Lucas Castle in the 43rd minute to trail by 30 points to 18. However, they made it difficult for themselves to keep the fight up with poor discipline and silly errors costing them a great deal of possession. The Rabbitohs continued to draw away as the second half progressed, with a try to replacement hooker Peter Mamouzelos in the 49th minute, before Kane Allan scored his second of the game in the 56th minute, putting the result beyond any doubt. Mamouzelos continued to exploit Wests' tired forwards around the middle, showing that Souths have plenty of depth in the hooking ranks. He scored his second try of the game in the 60th minute off the back of more dummy half running. Souths continued to pile on the points, cracking the half century with a try to Lachlan Ilias, before Jack Frasca crashed over in the left corner as the fulltime siren sounded, with a sideline conversion from Taaffe sealing the fate of the toothless Tigers with a 58-18 victory.

 6 min  6-0
13 min  6-6
21 min 12-6
26 min 18-6
28 min 18-12
32 min 24-12
HT     24-12
36 min 30-12
42 min 30-18
48 min 36-18
55 min 40-18
59 min 46-18
64 min 52-18
69 min 58-18

K.Allan 3, Mamouzelos 2, Taaffe, J.Cook, Stowers, Rodwell, Frasca tries
Taaffe 7 from 8, Illias 2 from 2 goals

Final Line Up -
                                  Min   T  G/A  FG

Flbk -  1 - Tautaiolefua, James    70   -  -     -
LWng -  2 - Frasca, Jack           70   1  -     -
LCnt - 18 - Zampech, Bradley       70   -  -     -
RCnt -  3 - Mougios, Nick          70   -  -     -
RWng -  5 - Allan, Kane            70   3  -     -
5/8  -  6 - Ilias, Lachlan         70   -  2/2   - 
Half -  7 - Taafe, Blake           64   1  7/8   - (c) 
Prop -  8 - Bain, Luke             35   -  -     - 
Hook -  9 - Cook, Josh             70   1  -     - 
Prop - 10 - Rodwell, Ky            57   1  -     - 
SRow - 11 - Aluni-Chanfoon, Maila  70   -  -     - 
SRow - 12 - French, Matt           70   -  -     - 
Lock - 13 - Gardner, Brock         33   -  -     - 

Int  -  4 - Angianga, Tallis       27   -  -     - 
Int  - 14 - Mamouzelos, Peter      23   2  -     - 
Int  - 15 - Stowers, Augustine     25   1  -     - 
Int  - 16 - Gale, Lachlan          16   -  -     - 

                                       10  9/10  -

Other U20 Jersey Flegg Cup Matches

24-4  Leic St Geo-Ill b Victoria
22-14 Leic Penrith    b Parramatta
36-14 Leic Cronulla   b Manly
30-24 Leic Warriors   b Syd Rstrs
32-20 Leic Newcastle  b Canterbury
44-10 Leic Canberra   b Norths

                W D  L B Diff PT
CRONULLA        7 -  1 - +134 14
PENRITH         6 -  2 - +143 12
SOUTHS          5 2  1 -  +82 12
CANBERRA        5 1  2 - +125 11
ST GEO-ILL      5 1  2 -  +94 11
SYD RSTRS       5 1  2 -  +34 11
NEWCASTLE       5 -  3 - +104 10
CANTERBURY      4 1  3 -  +42  9
Warriors        4 1  3 -  +22  9
Wests-Tigers    3 1  4 -  -22  7
Parramatta      2 -  6 - -100  4
Norths          - 1  7 - -176  1
Victoria        - 1  7 - -208  1
Manly           - -  8 - -274  -


Womens NSWRL Premiership - Round 6
v Wentworthville, Ringrose Park, Sun May 12 11:00am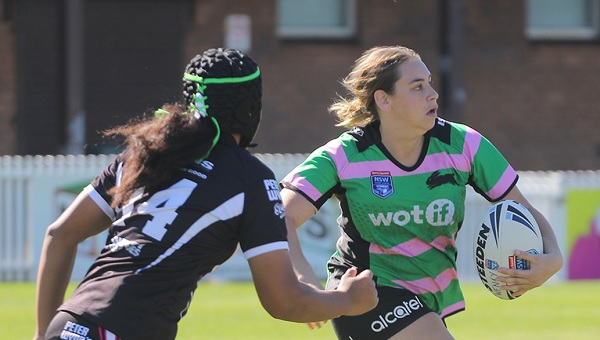 WIN 16-14
Late Changes - Young and Fonokalafi are out, Doyle starts fullback, Gordon at centre, Murray on the wing, Clay at 5/8, O'Mealey at half, Allende at lock, Kelly on the bench. The South Sydney Rabbitohs Harvey Norman Women's Premiership side have come away with a nail-biting 16-14 win over the Wenworthville Magpies at Ringrose Park on Mother's Day. In a see-sawing affair, the Red and Green completed an incredible victory, clawing back from a two-point deficit twice in the final ten minutes as well as having a player sent to the sin bin in what was an eventful second half. In a typically tough grind, the match began with both sides looking to gain the ascendency with fast line speed in defence and strong carries with the ball. But it was the Rabbitohs who would strike first, courtesy to captain Rebecca Riley diving over from dummy half close to the line. The conversion from five-eighth Candice Clay then gave the side an early 6-nil advantage after eight minutes. However, Wentworthville would return fire in quick succession, scoring two tries in the span of three minutes to take a two-point lead with both conversions missed. And they looked to strike again as halfback broke the line, but thanks to a try-saving tackle from fullback Karri Doyle, followed by some desperate defence, Wentworthville would eventually lose possession thanks to a dropped ball. The Red and Green would do themselves no favours though, with poor handling and ill-discipline handing their opponents more chances to continue their lead. Returning veteran Lavina O'Mealey looked to spark her side with a show and go five minutes from the break, and although Wentworthville gave the side another six tackles after kicking away a loose ball, cohesion was lacking as the Cardinal and Myrtle failed to convert their opportunities. With less than a minute to go, a penalty in the ruck gave the home side a chance to strike again, but the determined defence of the Rabbitohs Women prevented any more points from being scored in the half. It was a much more impressive start to the second stanza from the Rabbitohs, showing more intent and finesse with early kicks and running on fifth tackle. But just as the momentum swung in their favour, fundamental mistakes cruelled the Red and Green's chances to capitalise. A morale-boosting forced error gave a shot in the arm for the Rabbitohs, and although captain Riley took advantage of slow markers to give her side a much-needed penalty, the referee's decision was reversed as unwarranted backchat from O'Mealey saw the pivot sent to the sin bin and Wentworthville given the ball. Down to twelve women and heading in the final quarter of the match, the side failed to succumb to fatigue, winning a scrum feed fed by Wentworthville and then continuing to question the defence with some decisive running. The determination was encompassed by a try-saving tackle from fill-in fullback Bryanna Murray, who rounded up a runaway winger to bundle her into touch in a defining moment of the match. With O'Mealey back on the field and with Souths on the attack, it looked more and more likely that the side would strike, and they did so as the five-eighth put Karri Doyle over to bring the lead back to the Rabbitohs with less than ten minutes to go. An error on the next set gave Wentworthville ammunition to score, and despite some fantastic defensive efforts, they managed to crash over on a fifth tackle raid down the right-hand side. With the conversion successful, the Magpies held a four-point lead with less than four minutes to go. But the never-say-die attitude of the Rabbitohs shone through the time of need, with a miraculous kick-off going out after a single bounce and giving them possession 30 metres from the line. And soon it was powerhouse prop Moniqca Mo'ale charging under the posts to the delight of the Red and Green faithful. With Akira Kelly's goal, the Rabbitohs then took the lead with a minute to go. But the match wasn't without any drama, with the Rabbitohs losing the ball from the kick-off despite Jasmin Allende being tackled without the ball. But in what can only be labelled poetic justice, the Magpies lost the ball from the scrum to hand South Sydney the ball with a minute left to seal the victory.

 6 min  6-0
12 min  6-4
16 min  6-8
HT      6-8
52 min 10-8
55 min 10-14
57 min 16-14

Riley, Doyle, Mo'ale tries
Clay 1 from 1, Kelly 1 from 2 goals

41 min 10 Sin Bin O'Mealey, Lavina


Final Line Up -
                                  T  G/A  FG

Flbk -  1 - Doyle, Kari           1  -     -
Wing -  2 - Tallon, Courtney      -  -     -
Cntr - 13 - Gordon, Kyla          -  -     -
Cntr -  4 - Pilley, Tayla         -  -     -
Wing -  3 - Murray, Bryanna       -  -     -
5/8  -  6 - Clay, Candice         -  1/1   - 
Half - 18 - O'Mealey, Lavina      -  -     - 
Prop -  8 - Nean, Kyara           -  -     - 
Hook -  9 - Riley, Rebecca        1  -     - (c)
Prop - 10 - Mo'ale, Monique       1  -     - 
SRow - 11 - Vunakece, Eloise      -  -     - 
SRow - 12 - Boney, Latisha        -  -     - 
Lock - 20 - Allende, Jasmin       -  -     - 

Int  - 14 - Sutherland, Rhianna   -  -     - 
Int  - 15 - Waters, Meleanna      -  -     - 
Int  - 16 - Fonokalafi, Helen     -  -     - 
Int  - 17 - Kelly, Akira          -  1/2   - 

                                  3  2/3   -

Other Womens NSW Premiership Matches

18-6  Andr Norths     b Canterbury
34-10 Cabr Cronulla   b Cabramatta
34-6  Dudl Newcastle  b St Marys
14-0  Hcky Mounties   b Penrith-Br
BYE        Wests-Tigers
     
               W D  L B Diff PT
MT PRITCHARD   6 -  - - +114 12
NORTHS         6 -  - -  +46 12
NEWCASTLE      4 -  2 -  +84  8
CRONULLA       4 -  2 -  +56  8
SOUTHS         3 -  2 1  +40  8
CABRAMATTA     2 -  3 1   +4  6
WENWORTHVILLE  2 -  3 1  -16  6
ST MARYS       2 -  3 1  -24  6
Wests-Tigers   1 -  4 1  -44  4
Penrith-Br     - -  5 1 -150  2
Canterbury     - -  6 - -110  -


---
© 2019 SSR Almanac / HOME / RETURN