2023 - The Cyber View from the Hill
3rd May 2023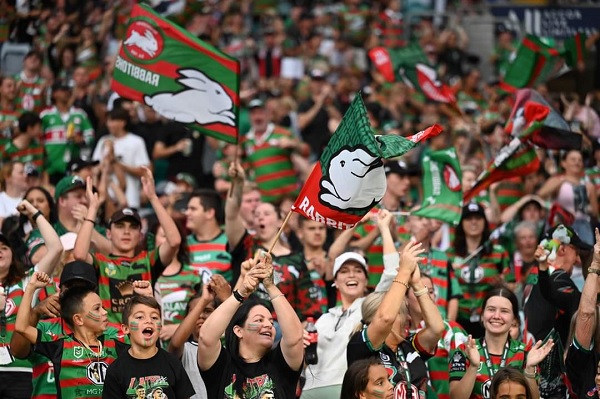 4 in a row
In a great second half display, Souths stormed home against the competition leaders. The win was built upon a strong forward performance and outstanding goal line defence. With our left side struggling against a Reynolds coached opposition, our right side took over and was on fire again this week, as we move into Top 3. Now we head back to Brisbane as part of Magic Round against our nemisis the Storm who sit equal with us in equal 2nd.
Graham another hatrick
Graham had another great game as he picked up from Koloamatangi as the strike weapon out on the right side. He scored 3 great tries with strength and line running, as then setup a great try assist. He has now raced to the top of the NRL 2023 try scorers list, and is in contention for his first State if Origin called. All of this against the best players to date. I expect many more tries bduring the course of the year.
Knight returns
Liam Knight finally made his return from his ACL injury late last season. It was a strong half game performance in reserve grade and his class was immediately evident. So this week he has been recalled to the first grade bench. Just when we need our key troops leading into State of Origin period.
Kalo Kalo rotten luck
What rotten luck for our up and coming fullback Terrance Kalo Kalo who broke his leg in the U21 fixture at Wagga Wagga. A player who played in the Charity Shield and had a potential for mid year call up, saw his season end in a terrible manner. It will be a long road back. Best of luck for his recovery.
Interchange Officials not accountable
It only lasted 15 seconds but once again we ended up with 14 players on the field. The NRL setup interchange officials, and interchange cards to manage the interchange process. But they found a way to get it wrong. What concerns me in fining Souths for the situation, the NRL and referees consider themselves not accountable for the interchange process. The NRL interchange official has only one job. Seems we will need to revisit this process again.
Bunnies TV - Weekly Segment
The boys recap the weekend
Round 9 - Stat Attack
Statistically it was a average game. Completions dropped to 72% from 85% last week. Errors dropped to 13 from 8 last week. We gave away 6 penalties and 4 6-again calls from 7 last week. Souths Effective 1st tackle dropped to a average level of 32.8m from 30.1m last week. Our missed tackles improved to a very poor level of 37 from 39 last week. Opposition offloads dropped to 6 from 5 last week.
Looking at our left side defence - Johnston-Tass-Walker-Host/Cartwright (0-2-2-3) improved to 7 from 11 missed tackles last week. On the right side Milne-Graham-Ilias-CheeKam (2-3-1-5) improved to 11 from 16 missed tackles last week. Ruck defence HSele/Tatola-DCook-Arrow/Burgess-Murray/Moale (5-6-6-2) dropped to 19 from 12 missed tackles last week.
Our go forward dropped to 1851m from 1714m last week. Burgess, Arrow, CheeKam, Milne, Graham, Tass and Johnston made 10+m per run. Tatola, Burgess, Arrow, Murray, Milne, Graham, Tass, Johnston and LMitchell made 100+m in the match. Defensively Murray was our best in the tackling raking up 42 tackles. Moale, Johnston and LMitchell didn't miss a tackle.
News This Week
NRL Issues Rabbitohs $15k Breach Notice
Round 9 Preview
Recent 2023 Form - South Sydney (3rd)

Rd07  Dolphins   LngS W 36-14
Rd08  Penrith    StAu W 20-18
Rd09  Brisbane   LngS W 32-6 

Recent 2023 Form - Melbourne (4th)

Rd07  Manly      Brok L  8-18
Rd08  Warriors   MRSt W 30-22
Rd09  BYE

Recent South Sydney v Melbourne Results

2020 Rd04  MRSt L  8-22      0 G.Sutton  
2020 Rd17  StAu L 16-22  4,734 A.Klien   
2021 Rd01  MRSt L 18-26 11,812 G.Atkins  
2021 Rd09  StAu L  0-50  7,501 G.Atkins  
2022 Rd02  MRSt L 14-15 13,269 G.Sutton  
2022 Rd19  StAu W 24-12 11,217 T.Smith   
2023 Rd05  StAu L 10-18 11,239 T.Smith