2022 - The Cyber View from the Hill
2nd February 2022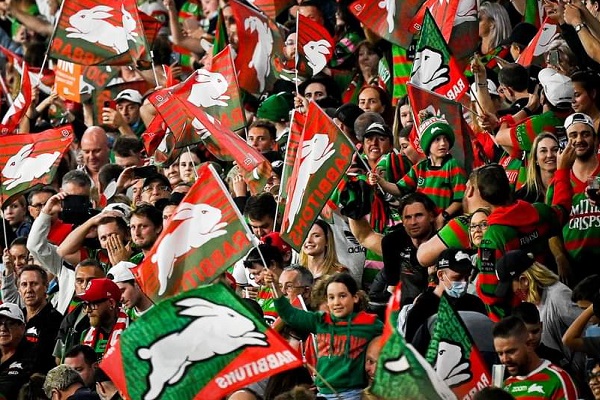 A New Year Begins
So we go into another uncertain covid year. Vacinations have been the order of the off season. Omicron variant, while milder than the Gamma variant has seen cases explode across the community. The rugby league community has not been immune. The Rabbitohs squad has had 88% of its squad register a positive result over the summer. With the loss of Reynolds, Gagai, Su'A, Marshall and Bennett it will be a new look team with a rookie coach, to takeover our Grand Finalist team. Trials will play a big part into 2022 with a halfback, centre and second row spot up for grabs. Let the 2022 show begin.
Captain Murray
Congratulations to our new club captain Cameron Murray. He has a very cool head and led our junior teams in past years and well as junior NSW teams. Its a big responsibility and he will set a new leadership style for the team with his work ethic. Looking forward to seeing his lead from the front.
Women Junior Reps Return
2022 sees the return of our women pathways. Its a very important step forward in our ability to forge our way into the NRLW competition. Back in 2017 and 2018 our Tarsha Gale Cup team participated in the 9s format, in 2022 the competition has evolved into a proper 13-a-side format. Welcome back to our girls in this W-U19s competition.
Blackcourt expands
The biggest news in the off-season has been our off-field successes. In November we welcomed Cannon-Brookes into the Rabbitoh fold as he became a 1/3rd owner of Blackcourt. Other than being a devoted Souths fan, this guy is huge in the corporate world. To put his finances onto perspective he has a greater net-worth that Murdoch. He will bring a new fresh approach and long term financial stability. The big end of town is now clearly here.
Offseason News
Rabbitohs 2022 Coaching Structure
Milford Signs for 2022
IRL - RLWC2021 Moved to 2022
Stadium Australia's New Southern Screen
Bijorac, Lovett and Munro 2022 Contract Extensions
Te Hau and Rahme Sign for 2022
2022 Rabbitohs Pathway Signings
2022 Rabbitohs U17 and U19 Pre-Season Squads
Heffron Centre Construction Begins
Nicholls 2022-23 Contract Extension
2022 Female Pathways Coaches, Signings & Squads
Chee Kam Signs for 2022
Havili Signs for 2022-23
2022 NSW Cup and Jersey Flegg Pathway Squads
Rabbitohs Finalise 2022 Pathways Coaches and Support Staff
Tass Returns for 2022
Cannon-Brookes purchases into Blackcourt
Wotif Sponsorship Extension
MG Motor 5 year Major Sponsorship
Murray named Club Captain for 2022
Nicholls released at end of 2022
Selected Pathways trial & Junior Round 1 Teams