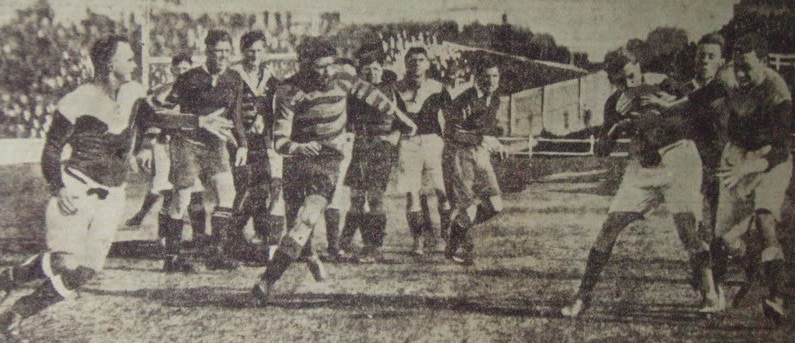 South Sydney Rabbitohs City Cup First Grade Players (1912-25,37,42,59)
139 players have played in the City Cup across 51 non-premiership First Grade competition games for the South Sydney Rabbitohs.
In 1912 the NSWRL initiated a post season knockout compeition where only the top 8 placed premiership teams would compete. The matches occurred after the season proper had concluded and proved to be very popular as premiership interest had dropped during the first past the post premiership era.
In 1921 Kangaroos tours restarted after World War I. It was decided that the second half of the premiership season would become the City Cup. With the knockout now being a top 4 finals series based upon placings.
In 1922-23 this was revised that the second round results would count for both the premiership and City Cup. Again a top 4 knockout final series would be conducted based up City Cup placings.
1924 saw the second half of the season results revert back to only being City Cup results. With the same top 4 finals knock out series.
In 1925 the City Cup competition reverted back into its Top 8 knockout format.
In 1937 due to the early departure of the Kangaroos for England, it was once again decided that the second half of the season would once again be contested only for the City Cup,with a top 4 knockout finals series.
1942 saw the competition have a brief return in its post-season knockout format during World War II. But the State Cup-Tie had proved propular and the City Cup only lasted a year.
1959 saw the return of the City Cup sponsored by Westinghouse and now being played for the Westinghouse Trophy. Again it was run as a post season knockout.
But post-season competitions never gained the popularity again as they once had between 1912-1925 since the advent of the mandatory premiership finals series in 1926.


                                                          Non-Premiership :  Incl. 1922,23 Prem matches
                     Years                Num   M   S   I   T   G FG  Pts :   M   S   I   T   G FG  Pts

Aitken, Keith        1942                336    1   1   -   -   -  -    -
Almond, Roy          1912-15              60    7   7   -   -   -  -    -
Anderson, E          1913                 89    1   1   -   -   -  -    -
Anderson, L          1913                 72A   2   2   -   -   -  -    -
Armstrong, Jim       1942                261    1   1   -   -   -  -    -
Bagwill, Phil        1923                135    -   -   -   -   -  -    - :  2   2   -   -   -  -    -
Baker, Jack          1919-20             107    3   3   -   1   -  -    3
Banham, Bobby        1937                230    8   8   -   4   -  -   12
Barry, Tom           1922-24             130    9   9   -   3   -  -    9 : 23  22  (1) 11   -  -   33
Beiber, Roy          1924                141    6   6   -   -   -  -    -
Blair, Alf           1917-25              96   28  28   -   9  14  -   55 : 38  37  (1) 11  18  -   69
Blinkhorn, Cecil     1924                108    1   1   -   -   -  -    -
Booth, Robert        1922                131    1   -  (1)  -   -  -    - :  3   -  (3)  1   -  -    3
Breen, Jim           1916-17              93    4   4   -   -   -  -    -
Brighton, Harry      1913                 63    2   2   -   -   -  -    -
Brogan, Frank        1923-24             128    1   1   -   -   -  -    - :  3   3   -   -   -  -    -
Brown, Johnny        1937                240    8   8   -   4   -  -   12
Brown, Oscar         1912-14              41    7   7   -   1   -  -    3
Burke, Dick          1923                139A   2   2   -   2   -  -    6 :  3   2  (1)  2   -  -    6
Butler, Arthur       1912,14-15            3    7   7   -   -   -  -    -
Butler, Harry        1912,14               4    6   6   -   -   -  -    -
Byrne, Ray           1937                245    2   2   -   -   -  -    -
Cameron, Bill        1922                 95    1   1   -   -   -  -    - :  9   9   -   3   -  -    9
Cameron, Walter      1937                228    4   4   -   -   -  -    -
Cann, Bill           1914,16              14    3   3   -   1   -  -    3
Cavanough, Harry     1925                144    1   1   -   -   -  -    -
Collier, Charlie     1912                 46    3   3   -   2   -  -    6
Cottee, John         1959                429    1   1   -   -   -  -    -
Courtenay, Hector    1923                134    1   1   -   -   -  -    - :  5   5   -   3   -  -    6
Cox, Ernie           1942                281    1   1   -   -   -  -    -
Cruise, Peter        1916                 91    1   1   -   -   1  -    2
Curran, Frank        1937                184    1   1   -   1   -  -    3
Davis, Jim           1912,14               7    4   4   -   -   -  -    -
Dean, Arthur         1937                206    4   4   -   -   -  -    -
Donovan, Charlie     1959                465    1   1   -   -   -  -    -
Dymant, Wally        1913-14,16-17        52    9   9   -   1   4  -   11
Fairhall, Alf        1937                244    2   2   -   1   -  -    3
Felsch, Fred         1937,42             231    9   9   -   3  22  -   53
Flockton, Alan       1959                431    1   1   -   -   -  -    -
Forgie, J            1913                 71    1   1   -   -   -  -    -
Funnell, Fred        1921-23             120   12  11  (1)  3   -  -    9 :  21  20  (2)  3   -  -    9
Funnell, Vic         1924                159    2   2   -   -   -  -    -
Fusedale, Reg        1919-20             112    2   2   -   -   -  -    -
Gibson, Charlie      1959                455    1   1   -   -   -  -    -
Gilbert, Herb        1915                 42    1   1   -   -   -  -    -
Gillespie, William   1920-23             115   13  13   -   4   -  -   12 :  26  26   -   8   -  -   24
Groves, Bill         1915-18              50    6   6   -   -   -  -    -
Hallett, Howard      1914-15,17-24        28   26  26   -   -   2  1    6 :  36  36   -   -   2  1    6
Harris, Arthur       1942                316    1   1   -   -   -  -    -
Harris, Sid          1925                151    1   1   -   -   -  -    -
Hickey, Dave         1923-25             137    3   3   -   1   -  -    3 :   4   4   -   1   -  -    3
Hilliard, Eddie      1912,14-17           43    9   9   -   -   -  -    -
Hilliard, William    1915                 67    1   1   -   -   -  -    -
Hinson, Eddie        1937,42             210    2   2   -   -   -  -    -
Holmes, Harold       1918                101    1   1   -   -   -  -    -
Horder, Clarrie      1912-13,19-21        64   16  16   -   7  36  -   93
Horder, Harold       1912,14-15,17-19,24  61   19  19   -  22  22  -  110
Horder, Roy          1913                 72B   2   2   -   2   3  -   12
Horne, Perc          1919,21-23          106   10   9  (1)  2   -  -    6 :  19  17  (2)  2   -  -    6
Howard, F            1915                 79    1   1   -   -   -  -    -
Hurst, John          1937                212    2   2   -   -   -  -    -
Johnson, George      1920-22             118   12  12   -   3   -  -    9 :  16  16   -   3   -  -    9
Johnston, Alec       1921,23             126   16  16   -   7   -  -   21 :  30  30   -   8   -  -   24
Jones, George        1937                297    4   4   -   -   -  -    -
Jones, Jack          1924                145    4   3  (1)  -   1  -    2
Kerwick, John        1915-18,20-21        75   16  16   -   1   -  -    3
Kilham, George       1937                224    8   8   -   1   -  -    3
Landow, George       1942                300    1   1   -   -   -  -    -
Lane, Billy          1921                124    1   -  (1)  -   -  -    -
Lapham, Ernie        1925                146    3   3   -   -   -  -    -
Lawrence, Jack       1919-21,23-25       100   24  24   -   5   -  -   15 :  40  40   -  13  21  -   81
Lawrence, Vic        1920-25             116   18  17  (1) 12   1  -   38 :  32  32  (1) 22   1  -   68
Leadbeater, Sid      1924-25             142A   3   3   -   1   -  -    3
Leveson, Jack        1912-13              11    2   2   -   -   -  -    -
Lewis, Eric          1937                191    3   3   -   -   -  -    -
Lewis, William       1913                 68    1   1   -   -   -  -    -
Linklater, Bob       1923                138    2   2   -   -   -  -    - :   3   3   -   -   -  -    -
Lodge, Jack          1925                147    3   3   -   1   -  -    3
Lucas, George        1917                 97    2   2   -   -   3  -    6
Manson, Don          1937                241    6   6   -   3   -  -    9
Martin, Sam          1959                463    1   1   -   1   -  -    3
McCabe, Arthur       1912-14              34    8   8   -   3   -  -    9
McCarthy, Owen       1912-17              57   11  11   -   -   -  -    -
McDonald, Les        1937                204    2   2   -   -   -  -    -
McGowan, George      1916-18              84    5   5   -   1   -  -    3
McGrath, Ted         1921-22             114    2   2   -   1   -  -    3 :  10  10   -   2   2  -   10
Moloney, Bryan       1924                121    1   1   -   1   -  -    3
Moore, George        1916-18              85    5   5   -   -   -  -    -
Murphy, Pat          1920,23-25          119   14  14   -   -   -  -    - :  21  21   -   -   -  -    -
Murray, Brian        1959                419    1   1   -   1   -  -    3
Nelson, Fred         1959                435    1   1   -   -   -  -    -
Nicholls, Harry      1912-14              44    6   6   -   3   -  -    9
Norman, Ray          1914,16              73    4   4   -   1   -  -    3
Norman, Rex          1919                 76    1   1   -   -   -  -    -
O'Connor, Alf        1921-23,25          127   11  11   -   4   -  -   12 :  18  18   -   5   -  -   15
O'Connor, Frank      1937                162    6   6   -   -   -  -    -
O'Donnell, Claude    1918                102    1   1   -   -   -  -    -
Oxford, Arthur       1915-18,20           80    8   8   -   1  22  -   47
Perry, R             1937                244A   7   7   -   1   -  -    3
Phelps, B            1916,17              87    2   2   -   -   -  -    -
Pike, Eddie          1959                465A   1   1   -   -   -  -    -
Pryke, Mark          1959                439    1   1   -   -   -  -    -
Purcell, Bernie      1959                388    1   1   -   -   2  -    4
Quinlivan, Allan     1937                234    3   3   -   1   -  -    3
Quinlivan, Leon      1942                274    1   1   -   1   -  -    3
Quinlivan, Oscar     1923-25             132    8   7  (1)  2   -  -    6 :  16  16  (1)  7   2  -   25
Righton, Alan        1925                150    3   3   -   1   -  -    3
Rigney, Ed           1913                 62    2   2   -   -   -  -    -
Root, Eddie          1923-25             139   10   7  (3)  3   -  -    9 :  15  12  (3)  5   -  -   15
Rowley, Bill         1918                 81    1   1   -   -   -  -    -
Shearer, John        1959                456    1   1   -   -   -  -    -
Sheehan, Bill        1921                 98    3   3   -   -   -  -    -
Sheehan, Vince       1919-22             105    4   4   -   -   -  -    - :  11  11   -   5   -  -   15
Shipway, D           1924-25             142B   2   -  (2)  -   -  -    -
Singles, Ernie       1942                276    1   1   -   -   -  -    -
Sladden, Eric        1959                437    1   1   -   -   -  -    -
Smith, A             1912                 51    3   3   -   1   -  -    3
Spence, William      1912,14              35    3   3   -   -   -  -    -
Stiff, Jim           1937                222    4   4   -   -   -  -    -
Stokes, Billy        1942                283    1   1   -   -   -  -    -
Swinnerton, Ernie    1919-20             109    3   3   -   -   -  -    -
Tait, Jim            1924                168    5   4  (1)  -   1  -    2
Tandy, Johnny        1918-19             105A   2   -  (2)  -   -  -    -
Thompson, Arch       1924-25             148    6   6   -   -   -  -    -
Thompson, Hack       1915                 56    1   1   -   -   -  -    -
Thompson, Harry      1937                220    8   8   -   5   -  -   15
Thomson, Harry R.    1912-13              31    5   4  (1)  3   -  -    9
Thorne, Jim          1942                302    1   1   -   -   -  -    -
Vaughan, Gordon      1916-21              92    9   9   -   8   -  -   24
Vose, Tom            1937                252    1   1   -   -   -  -    -
Wallace, Bob         1959                464    1   1   -   -   -  -    -
Walsh, Jack          1937                242    7   7   -   -   -  -    -
Watson, Dave         1923-25             136    8   8   -   -   -  -    - :   16  16   -   1   -  -    3
Wearing, Benny       1921-25             123   21  21   -   6   4  -   56 :   36  36   -  15   5  -   85
Whitfield, Jack      1942                264    1   1   -   -   -  -    -
Why, Albert          1924-25             142    7   7   -   3   -  -    9
Williams, Percy      1937                183    2   2   -   -   5  -   10
Wilmot, Ern          1921-24             122   19  19   -   -   -  -    - :   35  35   -   -   -  -    -
Wunsch, Jack         1942                272    1   1   -   1   -  -    3
Young, Frank         1937                201    2   2   -   -   -  -    -


---